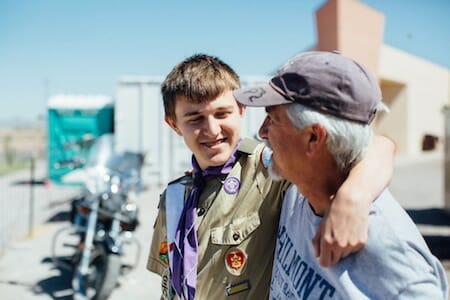 Meet Daily Point of Light Award honoree Joseph Harley Strawn. Read his story and nominate an outstanding volunteer or organization as a Point of Light.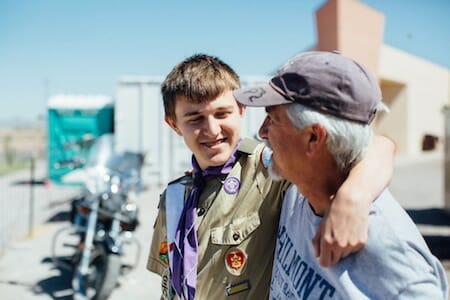 Joseph Strawn
Ever since he was a 5-year-old Cub Scout, Joseph Strawn has enjoyed serving others. As Joseph worked to become a Boy Scout, his scoutmaster was there right beside him, cheering him on, motivating him to always do better.
Recently, the Las Cruces, New Mexico, teen's thoughts turned to his old scoutmaster when the time came for him to complete a project to earn his next rank, that of Eagle Scout. He remembered how the man had lost his job, his wife and his home in quick succession after becoming ill from complications related to diabetes.
Joseph contacted the organization, Mesilla Valley Community of Hope, that had housed the man for a while, then helped him move to an apartment before he eventually died at age 55.
"I asked the director how I could help and she gave me three options," recalls Joseph, now 17.
They each involved Camp Hope, a tent city on the nonprofit's campus that provides transitional housing for about 50 homeless people.
One was to put a fence around a pond, the second was to build some boxes for the camp's vegetable gardens and the third was to help procure and install solar energy panels.
The last option "seemed like a big thing compared to the others," Joseph says with a laugh. "But I thought, 'I have all summer to do something, so I might as well try!'"
Learning that his old scoutmaster had become homeless and then talking with others like him was enlightening for the teen.
"I had a stereotype that homelessness was because of something negative in people, like they spent all their money on drugs," Joseph says. "But when I worked at the camp, I saw how they were all looking to get back on their feet. They wanted to feel like they were contributing to society."
Joseph researched companies that made and installed solar arrays, led the effort to raise the $6,000 in funds and chipped in with everyone from his parents to other scouts to build a trench for the wires and box to store the solar batteries. The panels now power a small office shed on the campgrounds.
"When you give back to your community, you not only help those less fortunate but you feel more grateful for everything you have," Joseph says. 'I know that I'm blessed to have a home and a family."
Share this post