Mother Starts Charity to Fulfill Cancer-Survivor Daughter's Dancing Dreams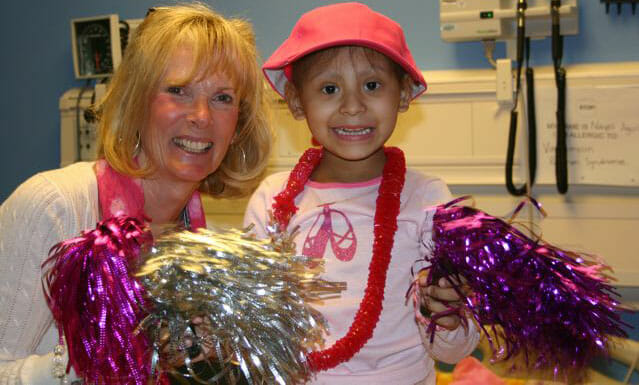 Susan Rizzo Vincent faced the worst fear of any parent when her daughter was just 18 months old: the risk of losing a child.
"She was a normal 18-month-old and then all of the sudden I noticed her hands shake a little bit as we were eating dinner and then within hours her coordination just declined. By the next morning, she really couldn't sit up or even crawl. She'd lost all of her motor coordination within 24 hours," Susan said.
Susan's daughter Andréa was diagnosed with neuroblastoma, an often deadly form of cancer that mostly affects infants and young children. When Andréa was diagnosed in 1979, Susan was told there was less than a 1 percent chance of survival. Thanks to the medical staff of Memorial Sloane Kettering Hospital in New York, Andréa was cured through chemotherapy and spared radiation. In spite of all of that adversity, Andréa survived and thrived. Though regaining her coordination took a few years, Andréa found both the antidote to an escape from her coordination struggles through dance.
Susan explained that the only residual difficulties she faced were minor learning disabilities. School was hard for her and that attacked her confidence – but she loved dance and she was good at it, which helped her confidence grow.
Andréa danced all through grade school and college. She also kept with her an awareness of how lucky she'd been. While working on a project in college, she took a deeper look into the disease that threatened her earliest years, learning just how often neuroblastoma is fatal. Andréa fully believed that by curing her, Memorial Sloane Kettering had performed a miracle and that dance was the key to overcoming all of the obstacles that followed. She decided she wanted to give back in the best way she could to the hospital that saved her.
After graduating from college with certifications in both elementary education and special education, she went on to NYU to begin graduate studies in dance therapy. Her dream was to become a dance therapist and work with kids who had special needs and cancer.
That dream, unfortunately, was never realized. On May 19, 2002, Andréa Rizzo was on her way home from a dance performance and was killed by a drunk driver. Susan was devastated but credits a group of compassionate friends and colleagues for helping her through it.
"One of Andréa's colleagues approached me and said let's start a foundation in Andréa's name. She wanted to be a dance therapist, somehow maybe we can provide dance therapy to children," said Susan.
Susan reached out to Andréa's professor at NYU for guidance. Susan then decided that this program had to begin at the very place Andréa dreamed of helping one day, Memorial Sloane Kettering. Several phone calls later, Dréa's Dream: Pediatric Dance Therapy began. Just months after Andréa's passing, Susan and her newly formed army of supporters held the very first fundraiser, a walkathon, on the campus of Andréa's undergraduate alma mater, Salve Regina University. That fundraiser was held on August 15, 2002, Andréa's birthday.
Fifteen years later, Dréa's Dream is represented in ten hospitals and in schools with special education classes across the country. Susan described the work her team of dance therapists do as helping children access and then release their emotions through movement. After they release the negativity they feel during treatment, they are able to positively transform and better cope with the healing process.
This philosophy of healing resonated with dancers nationwide and they joined Susan's cause. Dance schools from coast to coast now host Dance Across America events to help fund Dréa's Dream. People began to notice, including the staff of ABC's "Dancing with the Stars."
The show reached out to Susan in 2007 to offer tickets to be raffled off as a fundraiser, but Susan said she'd much rather use the tickets to bring a pediatric cancer patient to the show. That patient was Julie Reed, a high school student who was also a dancer.
"Dréa's Dream is like the guardian angel of children facing serious illnesses. Susan and her fantastic team of dance therapists bring joy to places where you least expect it," Julie said.
In a commercial break of that taping of "Dancing with the Stars," the house emcee chatted with audience members. When he approached Julie, she stood up and told everyone about her diagnosis and how Dréa's Dream helped her through treatment. As she sat down, Carrie Ann Inaba, one of the judges on the show, turned to Julie and said, "I want to know everything about this organization."
Not long after, Carrie Ann became the national celebrity spokesperson for Dréa's Dream. She told Susan, "I get it. The mind, body connection. I am so in tune with that and I believe in that so strongly." Carrie Ann helped Susan expand to Los Angeles area hospitals. Susan also formed a close relationship with the dance pros from "Dancing with the Stars." She brings a patient to a performance every season, and during the season, the dance pros and their celebrity partners visit Children's Hospital Los Angeles.
Susan has dedicated herself to bettering the lives of families facing the very scary things she faced with her daughter all those years ago. After losing Andréa, she struggled to find what her purpose was if she was no longer a mother, but then she realized her perspective was off.
"I am just also overwhelmed with gratitude that my daughter survived. I realize it was pretty darn close to miraculous that she did and then it leads me to think, well you know what, I got a gift of 24 healthy years with her."
Share this post