New York Teen Dedicates Time to Help Pediatric Cancer Patients and Their Families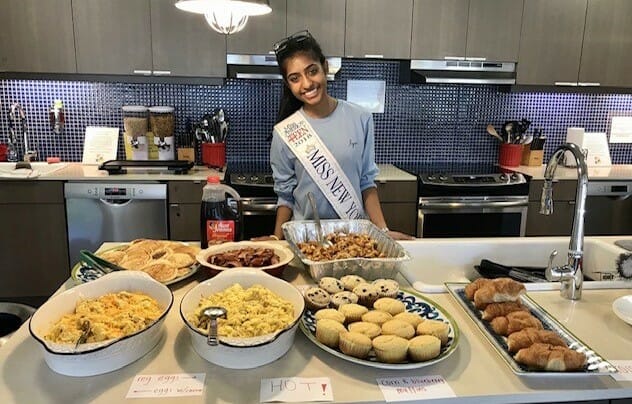 Cayla Kumar lost her great grandmother to cancer, so she understands how battling cancer can affect an entire family. Which is what inspired this 16-year-old junior at Archbishop Molloy High School to devote her free time to helping families facing cancer. Moved to help families with children dealing with cancer, in 2012, Cayla became the first youth ambassador to St. Jude's Children's Research Hospital. The following year, she started working with the Ronald McDonald House, where families stay while their child is in treatment. In the past five years, Cayla has volunteered more than 4,500 hours of service and helped raised more than $25,000 for cancer research and Children's Miracle Network Hospitals. Wanting to raise public awareness of pediatric cancer, she started the gold ribbon project, a passion project that sells gold lapel ribbons for $3, with the money going to pediatric cancer research. Her compelling focus on pediatric cancer is more than passing – Cayla plans to become a pediatric oncologist to make a lasting difference.
Cayla is committed to making a difference in her community and she is today's Daily Point of Light Award honoree. Points of Light spoke with her about her commitment to service.
What inspires you to volunteer?
My interest in helping families with children with cancer is directly related to my great grandmother. But it was my mom, who volunteers a lot herself, who inspired me to volunteer. I was being bullied at school and my self-esteem was very low. My mom suggested volunteering to focus on others in a very positive way. Making an impact on others really helped me feel good about myself. At the end of the day I love the feeling of making a difference.
Describe your volunteer role.
It depends on where I volunteer. On the weekends I volunteer at different fund raising walks for causes like breast cancer and pediatric cancer. Then I hand out t-shirts, restock water bottles, register people, whatever is needed. At the Ronald McDonald House in Hudson Valley, where I go twice a month, I make breakfast for the residents so they can eat before going to the hospital to be with their child.
What's been the most rewarding part of your work?
It's a powerful feeling to make an impact on somebody's life. It encourages me. It's just the best feeling in the world.
What have you learned through your experiences as a volunteer?
I've learned how to communicate and network with people. I was shy when I was younger, I'd stay to myself. Volunteering brought me out of my shell. It has also taught me that even as sick as some of these kids are, they find joy every day. They stay positive about getting their treatment and getting better. It puts my own problems in perspective.
Are there any future partnerships, programs, or events that you are excited about?
I'm working closely with the Pediatric Cancer Foundation, helping with their fundraisers, I'm working with them to expand the gold ribbon project to spread the word about pediatric cancer. Everyone knows what the pink ribbon means, but not that many people know that the gold ribbon is for pediatric cancer.
Why do you think it's important for others to give back?
I feel like in this day and age, so many people take what they have for granted. Honestly, I used to myself. But seeing what people go through, what kids and their families go through, makes you want to do whatever you can. It can be as simple as helping at a walk. Just do something, you get more out of it than you give.
What do you want people to learn from your story?
As someone who has been bullied, I can say for sure that if you believe in yourself, there isn't anything you can't achieve. I promise that if you work hard, you can achieve your dreams.
Do you want to make a difference in your community like Cayla? Visit All for Good for local volunteer opportunities.
Share this post