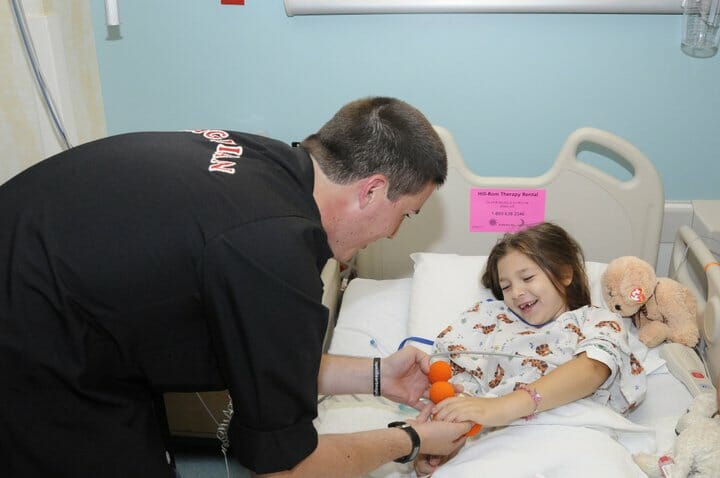 There are thousands of children in hospitals all across America battling life threatening illnesses. While their fight usually consists of some complicated combination of medicine and extensive treatment, there is another method of healing that is becoming quite popular, especially amongst children.
Open Heart Magic (OHM) is a treatment that, instead of invoking pain and discomfort in the hopes of healing, it produces smiles and laughter. In 10 hospitals all across the Chicago area, OHM strives to reach young patients one-by-one regardless of their disease, medical situation or physical ability, so that all children may benefit from this engaging and entertaining therapy.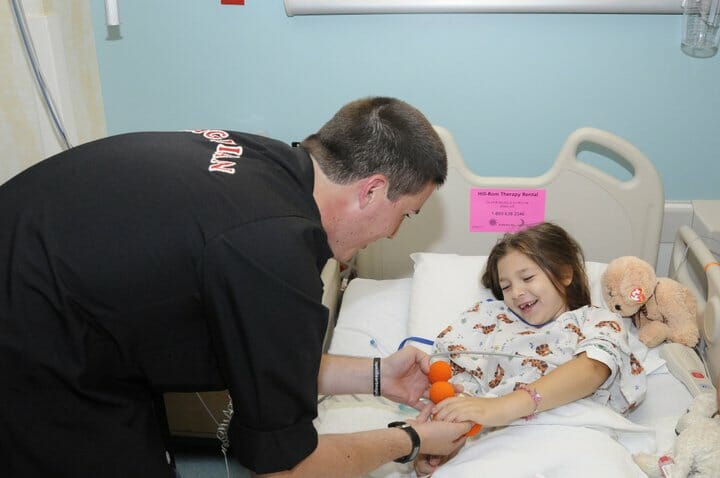 Volunteer magician, Diego, performing a trick with spongeballs-they are multiplying right in the patient's hands!
In 2003, Michael Walton walked into Rush Children's Hospital looking to volunteer his time by performing magic for patients. Realizing that magic helped children deflect from their harsh reality, Walton decided that this tool isn't just entertainment, but in fact medicine. Just one year later, in 2004, Open Heart Magic was formed and officially registered as a 501(c)(3) non-profit company.
OHM serves as the ideal outlet for those wanting to give back. To help recruit and build upon this volunteer-based organization, OHM host Magic University. Magic University is a 12-week course with intensive instructions on magic techniques, the art of therapeutic humor, as well as strategies to maximize magician-child interaction.
In 2014, OHM engaged 7,756 patients at their hospital bedside, which is up 35 percent from the previous year. In that same span, the amount of Hospital Magicians has nearly doubled from 56 volunteers to 105. While the numbers have increased, OHM's true impact is immeasurable. When a child plagued with an illness hasn't smiled in days, possibly weeks, and their typical treatment isn't working, it is Open Heart Magic that is there to provide them with relief.
Share this post