Shining Her Light: Eight-Year-Old Volunteer Lends a Hand Across Metro Atlanta
Meet Daily Point of Light Award honoree Dylan Pace. April is Global Volunteer Month, a global movement to recognize volunteers and people who actively support their communities, whether through volunteerism or other elements around the Points of Light Civic Circle®, like Dylan. Read her story, and join the Global Volunteer Month celebration. 
When we speak with Dylan Pace, 8, she is on her way to a Saturday morning soccer game. An avid sports fan, she participates in basketball, golf, horseback riding and tennis, too. She's also a big fan of Zeus, her Great Dane of the same age. Animals hold a special place in her heart, especially dogs and kangaroos. 
As a young girl, Dylan doesn't meet the age requirement for many opportunities to work with animals, but that doesn't stop her from lending a helping hand to other causes. She and her mom, Lauren, help with the inventory of donations, sorting and re-stocking goods, and more at multiple food pantries around the Atlanta area: The Place of Forsyth, Meals by Grace, and Solidarity – Sandy Springs. 
"We usually meet new people, and then they tell us what to do. And then we do it," Dylan says. "Sometimes people can't reach stuff, because they can't bend down because their back is hurting. They like to 'throw me in' to help, and I just hand people food." 
Other work she has done includes sorting and delivering donations to Teacher Reuse Exchange, planting and harvesting duties at Aquaponics Farm and Old Rucker Farm, and packing bookbags with donations for children entering foster care through Adventure Bags.
Dylan finds happiness in helping others and feeling productive at the same time. It gives her pride to complete a task or lead an inventory exercise.  
"One time I saw a lady in a wheelchair who came into one of the food pantries. She lit up after I got her food to her," Dylan recalls. 
Through her volunteerism, Dylan is shining a light across her community and inspiring others. During Global Volunteer Month this year, she was highlighted by Hands On Atlanta as part of their annual Spring for Service campaign. With the mission to mobilize the Atlanta community to tackle the city's most pressing needs, Points of Light Global Affiliate network member Hands On Atlanta mobilized over 30,000 volunteers, like Dylan, across Atlanta in 2022.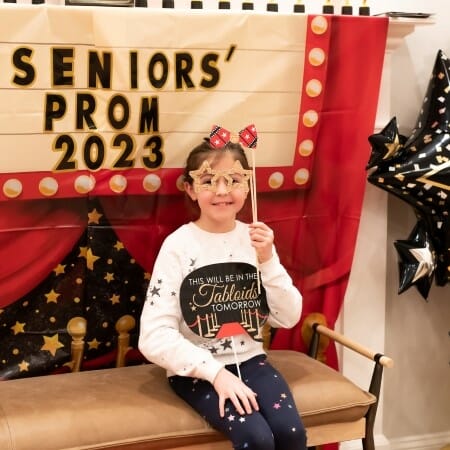 For Dylan, volunteerism starts at home. Her mom, Lauren, is a lifelong volunteer and professional photographer who donates her services through a program she's created called Living Legends for a demographic she feels is often overlooked or invisible. She and Dylan will play Bingo at nursing homes but also take portraits of the residents and give them 5×7 photo prints to decorate their room. Together, they've done 57 portraits so far and plan to continue. 
"Dylan helps to take some of the pictures, and she helps with lighting. The residents love when kids come to visit, so we incorporate the volunteering by being there and taking their pictures, too. Sometimes Dylan will wheel the residents around from room to room. They love that," Lauren explains. "Dylan is super helpful, and in two years, I think she'll be taking all the pictures." 
Lauren suggests nursing homes as a great place to get young kids started with volunteer service, as they are in many communities, and residents of older generations particularly love having kids visit for games and crafts. It's fun for everyone.  
The pair also photographs local preschoolers and women at Mary Hall Freedom Village who are re-entering the workforce, delivering prints for free. Aside from simply enjoying the work together, Lauren sees it as a way to get out of the house every day. Dylan is homeschooled, and homeschooling can mean spending a lot of time at home. Volunteering is also a way to combine lessons with hands-on work. When Dylan was learning to read, Lauren made her read all the packages as they inventoried food at food pantries. She learned spelling by writing labels. 
"They would have a box of lettuce, for example, and we would challenge Dylan to try to spell the word herself and write it, so she was learning spelling and penmanship. We did a lot of math there, too," Lauren recalls. 
Volunteering has been a way for Dylan to expand her community and meet — and learn from — organization leaders and people who are different from her. Not only are most of the volunteers older than Dylan, but they are often from different backgrounds.
Over the last two years, Dylan's consistent service has earned her the President's Volunteer Service Award, an honor earned by clocking over 100 hours of volunteering each year.
"It's our goal is to achieve the gold level for the PVSA, which requires over 75 hours of volunteer service, every year through high school," Lauren says of incorporating the work into their daily life. "It keeps us busy and productive. We both really enjoy it, and it helps to meet that little goal for us, too." 
During one week of every summer, Lauren puts together a schedule for Dylan and her friends who go to public school and don't get to join during the school year. Each day, they volunteer somewhere different.  
"We get to invite new friends who don't normally get to volunteer. We're able to expose them to some of those places where they would maybe never volunteer on their own," Lauren says. "Some people just don't ever get started. So, we're hoping we can change that with some of our neighbors and friends and get them more engaged." 
"My friends Kaitlyn and Caroline, they only go to one food pantry, and we introduced them to another," Dylan highlights.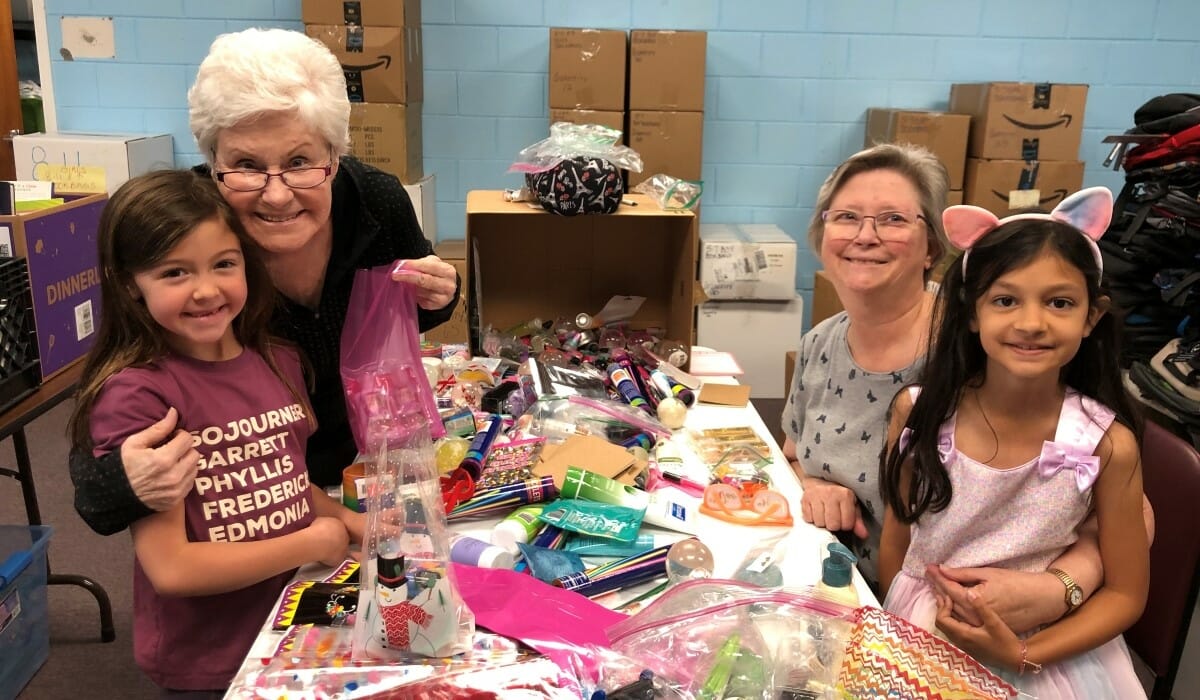 Getting to help others with the company of her friends is especially enjoyable for Dylan, and she relishes expanding their volunteer horizons. Her mom predicts she'll be even more inclined to bring friends to work on different projects as she gets older and when she finds something she thinks is a good match for them. In the meantime, Dylan loves the time with her mom and sees her as a role model. 
"She's a great photographer. She helps me with editing her pictures. And she just helps me every day. She's just really helpful," she says. 
While she's got plenty of time to decide, Dylan noted that she would consider a career following in her mother's footsteps with one exception: She would prefer to focus on photographing animals. 
"She is my favorite person in the world," Lauren states. "I can see her thriving with these projects. It gives her the opportunity to shine with these talents that she has. She's learned so much just by being around these other people in a healthy environment." 
As the school year comes to an end and the heat of the summer looms ahead, Dylan is already making plans. What's she looking forward to most during her time off? 
"Going swimming," Dylan says simply. 
It's hard to argue with that. 
Join the Global Volunteer Month celebration! Download our Global Volunteer Month toolkits and access resources to encourage volunteerism and civic action, recognize volunteers, and raise awareness for your organization's needs and funding opportunities.   
Share this post
---