Student's Volunteerism for Developmentally Disabled Students Means "EveryoneCanSTEM"
Meet Daily Point of Light Award honoree Andrew Hsu. Read his story and nominate an outstanding volunteer or family as a Daily Point of Light.
17-year-old Andrew Hsu attends a STEM magnet school which offers technology-focused education, preparing the Fullerton, California high school senior for the jobs of the future. Realizing the impact adjusted STEM education could have on students with developmental disabilities, Andrew has dedicated his volunteerism to offering specialized STEM learning.
Launching EveryoneCanSTEM in 2018, Andrew is helping to teach kids he says have incredible potential, but don't always benefit from traditional education. Working to curb unemployment amongst adults with developmental disabilities, Andrew has reached nearly 200 special needs students K-8 across Southern California through free targeted education and activities, setting students up for success and increasing STEM accessibility in his community.
What inspires you to volunteer?
I personally find volunteerism is a break at times from stress in the world or school. Through volunteering, you are put into a totally different mindset of giving back to others. I find it to be very gratifying.
Why is this service so personal for you?
As someone who has a relative with autism, I'm very aware of the high unemployment rate people with developmental disabilities face. More than 80% of adults living with autism around the world are unemployed or underemployed due to a shortage of vocational training, inadequate support with job placement and pervasive discrimination. I am working to change that.
Describe your volunteerism with EveryoneCanSTEM.
As founder and president, I'm in charge of reaching out to community organizations to promote our programs. I host our Zoom education classes and also create the curriculum. When we receive new students, I identify their learning style and coding ability to match them with a trained volunteer who can best teach them. I train our high school student volunteers so they know how to work with special needs kids.
You also support education through other volunteerism. Explain.
Before the pandemic, I helped to lead weekly classes at several Boys & Girls Club locations, working with kids to build confidence in STEM learning. Additionally, I am the president of STEMup4Youth. After schools shut down in March because of the pandemic, I worked with local organizations to distribute nearly 1,000 free experiment kits to underprivileged communities.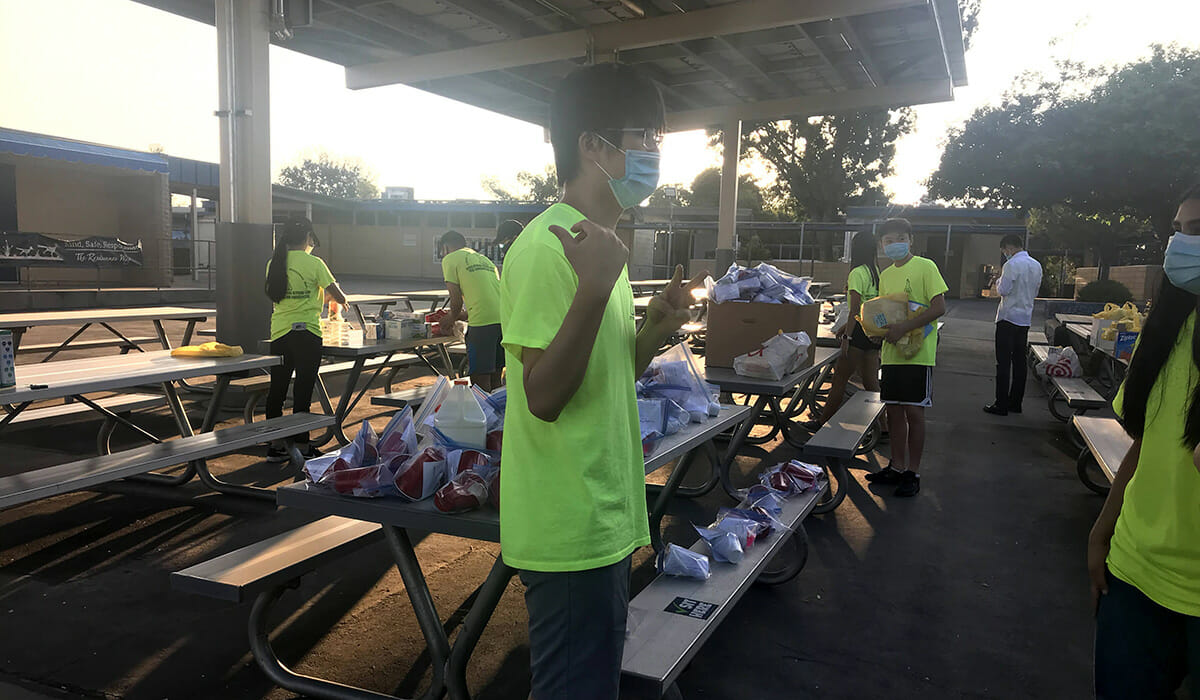 Share one personal story with me from your volunteerism.
A parent told me she was really happy because her child looked forward to our classes every single week. Especially during the pandemic, I was really grateful to hear that our class was one of the few things this child enjoyed. I've been very privileged to have this type of curriculum open to me, and it's benefitted me in many ways. I want this group of students to be able to benefit as well. Now some of our students are excited about coding in the future, which is just amazing.
Why do you think it's important for others to give back?
It's important to volunteer because you really learn a lot about very different types of people that you otherwise would have never met.
What's been the most rewarding part of your service?
It's rewarding to watch kids when they write a piece of code and see it work perfectly. That sense of accomplishment is most rewarding to me.
How have you continued to volunteer throughout the pandemic?
We used to offer fun scientific experiments and coding through our in-person classes, but now we're just offering weekly free coding classes on Zoom.
In one word, what does volunteering mean to you?
Passion.
When you're not busy with school or volunteering, what do you do for fun?
I like to go on hikes with my dog, Simba. I also bike. Lastly, I'm always looking for the best chocolate.
How can readers help?
Please visit our website for more information about how you can help.
Do you want to make a difference in your community like Andrew Hsu? Find local volunteer opportunities.
Share this post