Teen Provides Over 135,000 Meals to East Tennessee By Selling His Homemade Vanilla Extract
Meet Daily Point of Light Award honoree William Cabaniss. Read his story and nominate an outstanding volunteer or family as a Point of Light.
Like many who have explored new hobbies while in quarantine, 14-year-old William Cabaniss and his family decided to get into baking when the COVID-19 pandemic hit. He was making vanilla brownies, after having recently watched a news segment on how overwhelmed food banks were due to the pandemic, when it occurred to William that he could start making and selling his own vanilla extract to help raise money for those in need.
This led William to start the nonprofit Vanilla Feeds Tomorrow, which sells homemade vanilla extract and donates the proceeds to Second Harvest Food Bank of East Tennessee, which serves William's hometown of Crossville, Tenn. William makes much of the vanilla extract himself along with help from his friends and family. To date, the nonprofit has donated $45,000 to the food bank, which has been turned into over 135,000 meals.
Describe your volunteer role with Vanilla Feeds Tomorrow.
Vanilla Feeds Tomorrow is a nonprofit I started during the quarantine. I saw the need the pandemic was bringing upon people in east Tennessee and how food banks couldn't meet the growing demand. I really wanted to help, so I got to work and I launched Vanilla Feeds Tomorrow. To date we've been able donate $45,000 to Second Harvest Food Bank of East Tennessee, and they've turned that into over 135,000 meals for residents.
What made you decide to sell vanilla extract to raise the money?
I've always liked vanilla extract and how it can bring flavor to baked goods, and I have a recipe I like to make called vanilla brownies. It was during the quarantine when my family really decided to get back into baking. I was making those one day after recently watching a news segment on hunger in our nation and how overwhelmed food banks are, the incredibly long lines, drive-thru food pantries, all these things. When I was pouring the vanilla extract into the brownies, I realized I could make my own and sell it and then I could help these people in need.
What inspired your interest in helping to fight food insecurity?
I grew up in a small town in Tennessee and when I was in kindergarten, there were kids in my class I would sit next to who didn't have the luxury of going home to food. They would show up to school hungry. They were dependent on the free lunch, free breakfast, and backpack programs to get through the time away from school. Seeing the effects that hunger comes with really bothered me. I started donating my favorite fruit, bananas, to a local food pantry, and over time it has progressed to where I'm running a nonprofit to help east Tennessee. It really has just bothered me because no one should be hungry in the first place.
Why did you choose to donate to Second Harvest Food Bank of East Tennessee?
There's three main reasons I choose to donate to Second Harvest, the first being their range. They effect so many food pantries, food banks, and other organizations throughout Tennessee, and they support so many different counties that they really can make a large difference in my community. They have programs dedicated to children, to seniors, to backpack programs. They have so many different ways they are giving back actively and you can really tell. The people there are so kind and they genuinely want to help, so it's a great organization to donate to. For every dollar you donate, they can provide three meals.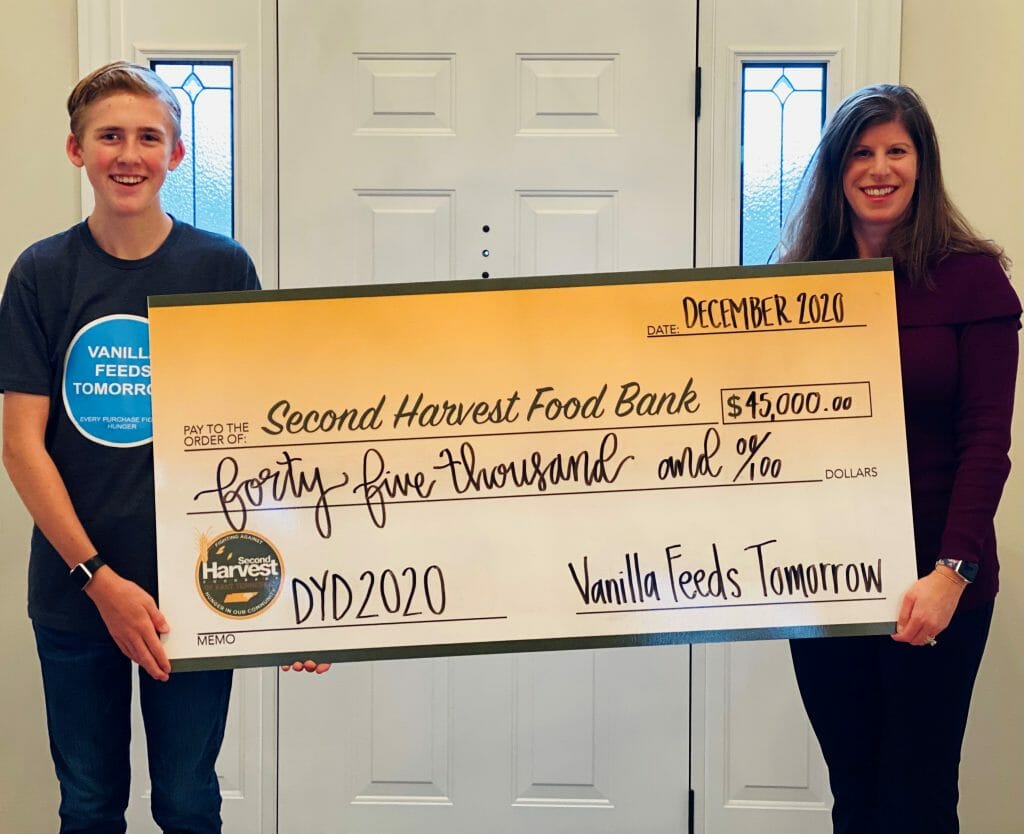 What's been the most rewarding part of your work?
The most rewarding part of the work is knowing that this actually makes a difference and that it actually helps people in need. The satisfaction is from helping and seeing how grateful some people are.
Why do you think it's important for others to give back?
I feel it's important for people to donate and give back because before the pandemic, all these people were financially secure and they were set and they were stable, but when they got furloughed or lost their jobs, that all changed for them. It could have been you. They need your help so it's important to volunteer and give back because it's nice and the right thing to do.
What do you want people to learn from your story?
Whatever you want to do, make a difference. Small or big, it's still a difference.
Do you want to make a difference in your community like William? Find local volunteer opportunities.
Share this post