Teen Starts Campaign to Promote Heart Health to Kids Throughout Michigan
Meet Daily Point of Light Award honoree Rylie Dewley. Read her story and nominate an outstanding volunteer or family as a Point of Light.
Having dealt with multiple heart conditions her entire life, 17-year-old Rylie Dewley knows that the common assumption that kids don't develop heart conditions is incorrect. With Start Heart Smart, Rylie is working to dispel that myth as well as provide support to other children who are dealing with heart issues. Through the organization, which she started two years ago, Rylie gives presentations on heart health to elementary and middle schoolers around her native Michigan. She has also delivered over 50 care packages to kids at two different local hospitals.
In addition to her service work with Start Heart Smart, Rylie also started an Adopt-a-Senior program last year for local high school seniors who were in need of cheer after the COVID-19 pandemic cancelled their prom and graduation. Because of the positive turnout, she continued the project this year and hopes to do so next year as well. A longtime volunteer, Rylie has also helped out at local homeless shelter Carriage Town at least twice a month since she was 10.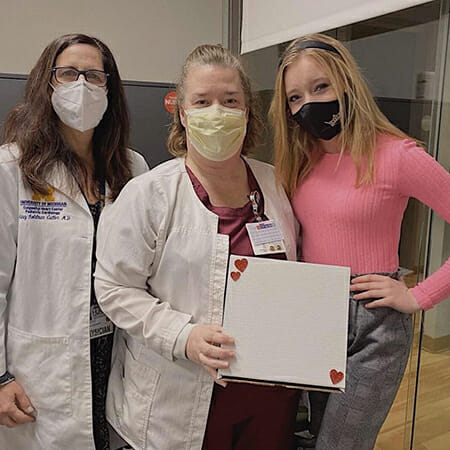 Describe your volunteer role with Start Heart Smart.
I started Start Heart Smart a couple years ago. Ever since I was young, I struggled with different heart conditions. I was born with holes in my heart and a heart murmur. When I was five, I was told those went away, but when I was 13, I was told that I had been re-diagnosed with a heart murmur and told that I also had a new condition called leaky valves and mitral insufficiency. I knew I wanted to promote the idea that kids can have heart conditions. A lot of people don't realize that teens and kids can have heart conditions, but I'm living proof of that. Through Start Heart Smart, I am able to share my story and help people keep their hearts healthy.
I am able to go into classrooms and speak to students. That's one of my favorite events to do because I'm able to talk right with the students. I am able to give them all the information they need and then they can pass it on to their parents. I go to local events and I promote Start Heart Smart. I also have care packages I give to children who are suffering from heart conditions at different hospitals.
What is in the care packages, and why was that something you wanted to do on top of the education aspect?
Some of the things we put in are teddy bears, socks, notebooks that look like hearts and little heart erasers and suckers, and I always finish off the boxes with a note from me saying 'Hey, I'm thinking about you and you're going to do so many great things so don't give up yet, you are so strong.' … I think the care packages were a great idea because I have been in the patients' shoes. I grew up pretty much in the hospital. I was always going there for my heart conditions. I was also born premature, so I was going to the hospital to get my check ups. It was so scary be-ing in those situations, so I knew I wanted to do something to bring a smile to the patients' faces which is why we went with care packages.
Why was it important for you to create Start Heart Smart?
Ever since I was young I had heart conditions, and it was always really scary not only for me but for my family as well. It was hard because there weren't many sources I could go to that talked about children's heart disease or the fact that children could have heart disease. I didn't know what it meant. I wish that I would have had someone there to tell me and explain it to me, so I want to be that person for other children who have heart conditions, and I also want to be able to prevent that feeling in other kids. I want them to be able to prevent themselves from having heart disease right now or even when they get older.
Can you talk about your Adopt-a-Senior program?
I created the Adopt-a-Senior program last year for the seniors of the class of 2020. I was really close to the senior class last year and this year, and I knew a lot of them were really upset because they weren't able to have their prom or graduation due to COVID. I created this group where people in Grand Blanc were able to join the Facebook page, and people would post their seniors on it saying "This is my senior, this is what my senior likes, who would like to adopt them?", and then someone from the community can adopt a senior. They get them gifts before graduation and give them little surprises.
What was the reaction to that program?
It was awesome. I didn't exactly know how it was going to go at first because it was my first year doing it, and I was really worried it wasn't going to get the reaction I hoped, but so many people in the community came together. Over 1,600 people are involved in the group now and over 400 seniors were adopted last year, so the response has been amazing.
What have you learned through your experiences as a volunteer?
I've learned so many things through volunteering. One lesson I learned quite a lot is be gracious for everything that you have. I volunteer through a lot of different homeless shelters and people who are in those situations don't have a lot. They have very little and yet they're so gracious for everything. It was really great to see that even though they're faced with this challenging situation, they could be grateful through it. That's a lesson I take through my everyday life.
What do you do when you volunteer at the homeless shelters?
The main homeless shelter I volunteer at is Carriage Town in Flint. I serve food and also work with helping them with their programming on their computers. I do it at least twice a month. I started probably when I was 10. I've grown up volunteering. It was something my mom really pushed my brother Hunter and I to do. I fell in love with it. When I heard about Carriage Town and heard it was so close to me, I really wanted to be able to go there and help.
What's been the most rewarding part of your work?
Seeing people's reactions is always amazing. I was able to receive some pictures of the patients opening the care packages and they looked so happy and so excited and that was an amazing feeling.
Why do you think it's important for others to give back?
Volunteering and giving back to the community is important in so many different ways. Your community most of the time has helped you grow and helped shape you into who you are, so volunteering is not just a way to give back, it's a way to say thank you by helping others.
Do you want to make a difference in your community like Rylie? Find local volunteer opportunities.
Share this post