Teen's Literacy Volunteerism Builds Young Readers Worldwide
Meet Daily Point of Light Award honoree Sneha Nadella. Read her story and nominate an outstanding volunteer or family as a Daily Point of Light.
Sneha Nadella's parents have always championed education for children in their home country of India, the 17-year-old says. On a visit to a rural area of India accompanying her parents, Sneha discovered how many young students face barriers to literacy, and she knew she wanted to help.
Through the World Literacy Foundation, Sneha, a rising high school senior from Plano, Texas, serves children around the globe to support their education and promote literacy. From Ethiopia to India, Sneha is volunteering to lift young people out of poverty through the power of literacy.
What inspires you to volunteer?
Regardless of where we live, we should all have a fair shot at resources and especially education. I'm inspired by the enjoyment in the eyes of the children and parents that we serve. As part of my volunteerism with World Literacy Foundation, I narrate audiobooks. I don't get to speak to the kids directly, but I receive videos of them learning and that makes me really happy. Some of the children we are volunteering with have never even owned a book before.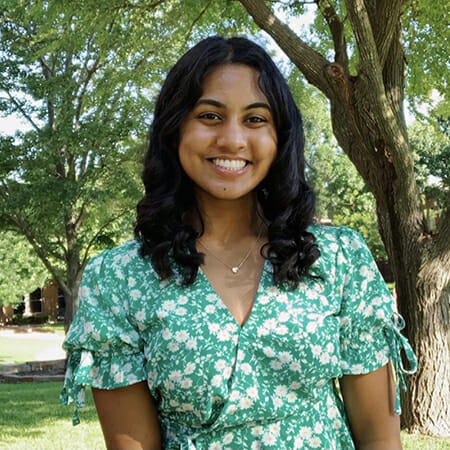 Describe your volunteerism.
As a volunteer with World Literacy Foundation, I record about two audiobooks each week for their literacy app. In addition, I help WLF with grants, and participate in various initiatives including their Christmas 2020 campaign. In addition to my service with WLF, I've tutored underprivileged Ethiopian children, taught English to students from rural areas in India, and volunteered with a variety of other organizations, including It's Going To Be Ok!, ACEing Autism, Special Needs Gymnastics, Special Olympics and Intellichoice.
Share one personal story with me from your volunteerism.
I met one girl while visiting a school in India. This little girl had big dreams, she wanted to be an aeronautical engineer. It was obvious she felt she wasn't able to pursue those dreams given the resources she had. Simply learning to read and figuring out sight words made her really happy. Witnessing her joy and seeing the struggles these children face made me passionate about literacy and making an impact. We literally watch them grow and prosper through literacy.
Why do you think it's important for others to give back?
None of us starts and pursues our lives on our own. We are all a community, and volunteering is a good thing to do.
What do you want people to learn from your story?
It's up to us to look after younger generations and shape them into good people. Through volunteerism, I like to think that I'm not just focusing on education, but I'm also talking to kids about their lives, and imparting a sense of service to them.
In one word, what does volunteering mean to you?
Rewarding.
What's your favorite children's book? Adult book?
I love Dr. Seuss books. I have so many favorite adult books. "To Kill a Mockingbird" is one.
How can readers help?
Please visit World Literacy Foundation's website for more information about how you can give back.
Do you want to make a difference in your community like Sneha Nadella? Find local volunteer opportunities.
Share this post