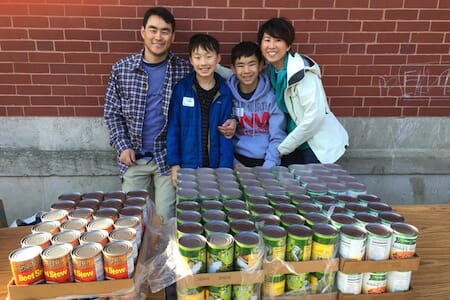 In honor of Family Volunteer Day, this past Saturday, Points of Light and Disney are recognizing families with the Daily Point of Light Award. Meet today's winning family, the Chung family of Illinois, and nominate someone in your community.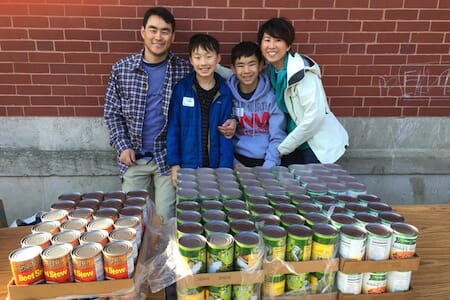 The Chung family
Something magical often happens when a child hands a can to an adult in line at a food pantry, says dad Albert Chung. Many times, a warm smile spreads across the adult's face.
"I've been amazed at the smiles of people when a little kid hands them a can of peas," he says. "We've found that kids are so capable, and if we're able to encourage them toward volunteerism, it's a really wonderful thing."
But there aren't many volunteer opportunities open to children. That's why Chung and his wife, Jennifer, selected The Honeycomb Project – a Chicago-based, family-volunteer organization – as their service base in 2011.
Because Honeycomb has no age restrictions, participating in its programs has broadened the view the Chungs' kids, Aidan, 12, and Ethan, nearly 14, have of the world. The program has given the boys chances to ask deep questions, Jennifer says.
As a family, the Chungs coordinate and participate in Honeycomb's Feed Hungry Families initiative, a project through which volunteers deliver food to Chicago-area food pantries. It's a good fit for the family, Jennifer says, because it also fulfills the passion she and Albert have for nutrition.
Sharing meals together is an integral part of their family's life, and as project leaders, they enjoy giving other families the resources to potentially do the same thing. At the end of unloading every food delivery, they also provide a snack for participants.
Honeycomb manages more than 5,000 volunteers, and it has plans to expand the programs and recruit more people interested in donating their time, energy and resources.
"People want to volunteer as family units. It's hard for someone that is part of a family to take time off for that," Jennifer says. "With Honeycomb, you can bring the entire family over, and they can learn wonderful things in the process."
For Feed Hungry Families, volunteers collect all food donations and ensure that they arrive at the correct locations, such as the Greater Chicago Food Repository. Once the food arrives, everyone gets a job, Jennifer says. Adults do the heavy lifting, carrying and moving large boxes. Even the smallest child is given tasks. Small children gain a sense of accomplishment simply by moving macaroni and cheese boxes one at a time.
To keep young people interested in volunteering, Honeycomb launched an incentive program though which kids can get keepsakes, such as a special Honeycomb ruler or pencil, for volunteering for a certain number of projects.
"If you involve kids earlier, at impressionable ages, they will be more likely to volunteer as adults," Jennifer says. "We wanted to marry the idea of a strong family bond with a strong community bond. We wanted to show our kids that not everyone is as fortunate as we are, in an effort to help them start building empathy and understanding."
Share this post