Volunteer Dons Princess Costume to Bring Cheer & Magic to Kids in Need
Meet Daily Point of Light Award honoree Emma Winter. Read her story and nominate an outstanding volunteer or family as a Daily Point of Light. 
Princesses, superheroes, fairies and more are the stuff of dreams for children – yes, some adults too, so when volunteer Emma Winter dons her character costume to bring those dreams to life for kids in need, it's a magical moment. 
As the vice president of A Moment of Magic's (AMoM) Gonzaga chapter, Emma, a 20-year-old college junior originally from Lake Oswego, Oregon, is harnessing the power of creativity, friendship, and laughter as tools in healing. Through the organization, which provides creative programming to medically vulnerable children through character visits and other resources, Emma is connecting with her community to make magic for kids in need. 
What inspires you to volunteer?
I've always been inspired by the people in my community because many people in Spokane are going through hardship. Seeing their strength and resilience inspires me to be resilient just like them.  
Describe your volunteerism with
AMoM.
We serve children to remind them to be brave, strong and fearless, and to bring a little bit more magic into their lives because the magic of believing is extremely powerful. As vice president of the Gonzaga chapter for A Moment of Magic, I assist in running meetings and help the executive board. I also volunteer as a character to make visits to children at hospitals, local organizations and at community events. We work with organizations including: Providence Sacred Heart Children's Hospital, Vanessa Behan Crisis Nursery, Catholic Charities Eastern Washington, Logan Elementary School and Wishing Star Foundation.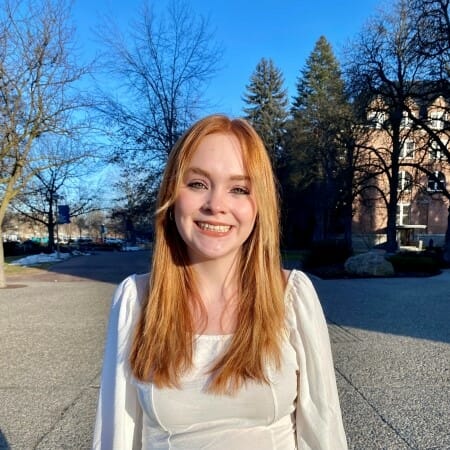 Share one personal story with me from your volunteerism. 
During my first visit as a character, I was very nervous. We visited Catholic Charities Eastern Washington, where each month, they'd hold big birthday parties for children. There was this little girl who was crying. Obviously, meeting some characters can be overwhelming, but it took a simple game of hide and seek to get this child out of her shell and really open up to us. It was so impactful to see how playing pretend and talking to this little girl as her favorite character really put a smile on her face and distracted her from her situation. It made me realize how important our work is, and what the power of believing can bring to children who need it most because kids should not have to worry about anything else except being a kid. We represent hope, happiness and magic. 
Why do you think it's important for others to give back?
For people in places of privilege, it is so important to use this place of privilege to give back to those who might not be as privileged. We are a community and a community to me by definition is people who can band together and who feel connected to one another.  
How have you continued to volunteer throughout the COVID-19 pandemic?
We were not able to meet in person or do in-person visits. Instead, we made the switch to hotline calls, where children and their parents or guardians signed up for a virtual video call with a character. We were able to reach more children that way. 
You're recognized for your tireless service, specifically amid the pandemic. Who inspires your volunteerism?
Mackenzie Richards, the president of our chapter. She's always been so resilient and adaptable, which are important qualities for a leader, especially during the pandemic. Her passion has never wavered no matter the modality of our service.  
In one word, what does volunteering mean to you?
Empathy. 
How can readers help?
Please visit our website for more information about how you can help. 
Do you want to make a difference in your community like Emma Winter? Find local volunteer opportunities. 
Share this post