Volunteer Provides Over 250 Wheelchair Ramps to Those with Mobility Needs
Meet Daily Point of Light Award honoree Greg Schneider. During the third annual Global Volunteer Month, we celebrate the power of people who tackle society's greatest challenges, and build stronger, more vibrant communities through volunteerism and everyday actions, like Greg. Read his story and join the Global Volunteer Month celebration.
After his kids moved out of the house, Greg Schneider found himself with more time to give back to his community. In the past decade, he's volunteered with over 25 nonprofits in his Cincinnati area. But it was one volunteer project in particular — helping to build a wheelchair ramp for a veteran's disabled widow — that led Greg to start his own nonprofit, and sent him on a mission to make change across the country. 
Eight years ago, Greg and his wife founded Operation Ramp It Up, a nonprofit dedicated to installing wheelchair ramps for people with mobility issues. The organization has installed over 130 aluminum ramps and provided over 150 recycled ramps across 40 states. Greg travels the country to personally join as many ramp builds as he can.
Describe your volunteer role with Operation Ramp It Up.
Operation Ramp It Up is a nonprofit that installs wheelchair ramps for people with mobility issues. I'm the co-founder with my wife and I'm the CEO. I run daily operations and I do most of the installs across the country. We've been working on building ramps for the last eight years. We're in 40 states, soon to be 41. We're adding Alaska to our list of states very soon. We've had over 130 installs to help people with their mobility. We started out helping veterans with needs getting in and out of their homes. Recently in the past couple of years, we've been helping others — a lot of ALS patients, people with cerebral palsy, people in hospice care, anybody with any type of mobility issue. 
What inspired you to start this?
I have a very good career, and all my children got to go to college and get married. I felt like I had some time to give back to my community. I started volunteering in my community, and I've worked with over 25 nonprofits in Cincinnati in the last five to ten years. I had an opportunity to build a ramp with one of the nonprofits locally. It was a spouse of a deceased Vietnam veteran. She couldn't get up and down her five steps. The only way she could get out is if one of her children came, who didn't live close, or she had to wait for a service and someone had to carry her down the steps. Within two hours, we built this aluminum wheelchair ramp and she was able to be wheeled out. The tears of joy, the excitement she had, was very emotional. We were happy for her to be able to leave her house. We did a couple more and I thought, I want to do this.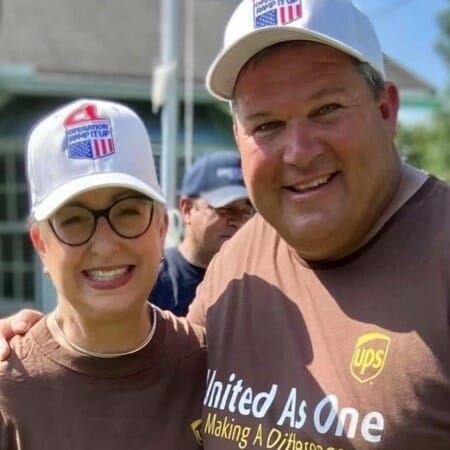 Have any ramp builds been particularly memorable for you?
My youngest daughter is a graduate of Miami University in Ohio. One of her college friends who was 36, she saw on Facebook that he had ALS. My daughter came to me, "Dad, can we help my friend?" Without batting an eye, I said absolutely yes. We made it happen. Even my daughter went to the ramp build. We were able to help one of her friends. ALS is a terrible disease, but he was able, on his own, to get up and down his front yard with a ramp versus going up the steps. To see the impact we made on his life, and then to see the impact we made through my daughter's eyes, was remarkable.
Do you have any future partnerships, programs, or events you want people to know about?
I just received my second NFL grant. I'll be working with the Cincinnati Bengals again this year. I'll be building a ramp either this spring or early summer with the Cincinnati Bengals. I'm pretty excited about that. I'll be traveling to Anchorage, Alaska. I'm going to help a veteran community and a veteran lodge. I'm going to be building two ramps just north of Anchorage up in June. I'm pretty excited to add another state and help somebody north in that area. My goal is to have a ramp in all 50 states. Right now I'm close to that. I have connections, partners, sponsors, contractors, and volunteers all throughout the country, so it's kind of neat to be able to work with people all over the U.S. 
Do you have any other goals you would like to see Operation Ramp It Up achieve?
I want to be able to help everybody and anybody. Sometimes I get overwhelmed, especially when I have a little bit of publicity or there's an interview. When we get the word out, we get overwhelmed with calls. Sometimes I have to really make sure everybody meets that criteria. Usually the people asking for a ramp have been trying for a long time to get a ramp. My goal is to be able to help as many people as I can and not turn anybody down. 
What's been the most rewarding part of your work? 
The most rewarding part is to see somebody who is looking out their window and can't get out of their home, and within two to four hours, they're able to go get their mail from their mailbox, or go out to their driveway and turn around and get back in their house without anybody helping them. 
What do you want people to learn from your story?
I never would have thought eight, ten years ago that I would be helping people 2,000 miles from my home. Never give up. Always help. If you're privileged enough to wake up everyday to go to work and get in your car and leave, don't take for granted that everyone can. Put a smile on someone's face. Change their life and save their life. 
Do you want to make a difference in your community like Greg? Find local volunteer opportunities. 
Share this post