6 Influencers Using Social Media for a Good Cause This Global Volunteer Month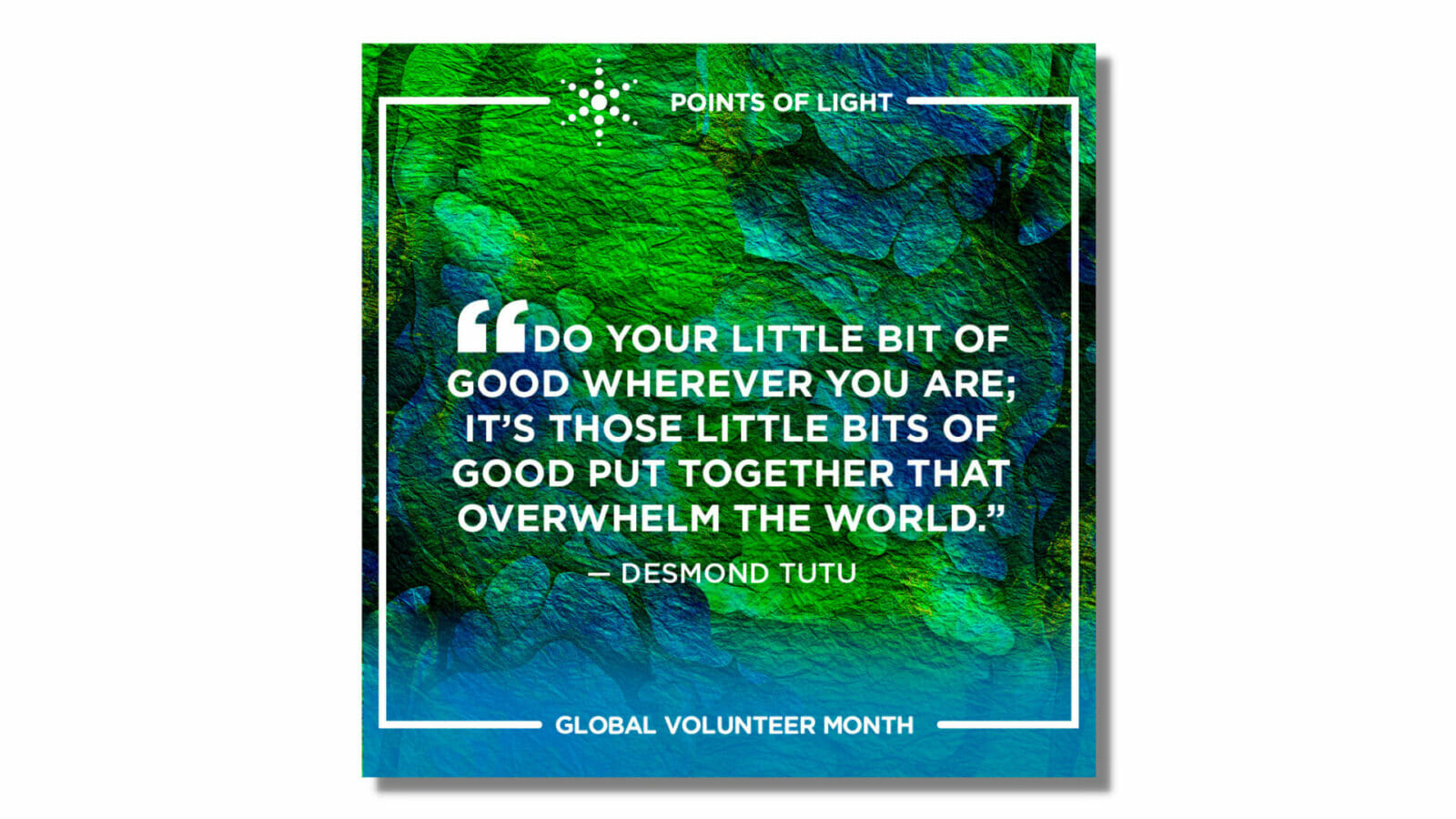 Social media provides an opportunity for those advocating for causes to make their voices heard, spread awareness and garner widespread support. By reaching audiences across the nation and the globe, social media influencers can harness their social impact by educating and informing the masses on current-day issues, solutions and organizations working to create change.
Here we're featuring six changemakers who partnered with Points of Light during Global Volunteer Month throughout April to amplify this movement through their social media platforms. Their messaging lent support to promote volunteerism in communities around the world.
6 posts using social media for a good cause
Taylor Moxey
The Taylor Moxey Foundation was created to empower literacy for children and families worldwide through local sustainable libraries, education and arts programs. The organization's founder, Taylor Moxey, is passionate about the power of reading to promote creativity and innovation in both children and adults. This young philanthropist is already a published author, award-winner and creator of a daily mantra card deck.
The three Florida-based Taylor Moxey libraries are constructed of pod-style buildings created from repurposed shipping containers, providing a sustainable approach to creating more spaces for youth and families to cultivate their love of reading and education.
You can meet Taylor here and see her Global Volunteer Month post on Instagram.
View this post on Instagram
Dani Aravich
Dani Aravich is a Paralympian, adaptive model and disability advocate. Born without her left hand and forearm, Dani has represented the United States at the summer and winter Paralympic Games. She fiercely advocates for inclusion in the outdoors for people with disabilities.
From playing sports from a young age and excelling against non-disabled peers, Dani went on to a decorated career in professional sports, including track and field, Nordic skiing, trail running, backcountry skiing and more. She advocates for disability inclusion in sports and is currently working toward establishing an avalanche course for people with disabilities.
Meet Dani and see her Global Volunteer Month post on Instagram.
View this post on Instagram
Sir Darius Brown
Sir Darius Brown is a powerhouse teen social entrepreneur, speaker, shelter pet advocate, philanthropist, recipient of the Global Child Prodigy Award and founder & CEO of Beaux & Paws, where he designs and creates handmade stylish bow ties for dogs in animal shelters.
At the age of 2, Sir Darius was diagnosed with speech comprehension and fine motor skills delay. But by the age of 8, his fine motor skills started to improve after he began assisting his older sister with cutting fabric and learning how to use a sewing machine. During this time, he discovered his passion for making bow ties. Beaux & Paws was founded during the devastation of Hurricane Harvey and Hurricane Irma, in an effort to help displaced pups become more adoptable with adorable bow ties that help them look their best.
Meet Sir Darius and see his Global Volunteer Month post on Instagram.
View this post on Instagram
Trevon Jenifer
Paralympic Gold medalist and advocate Trevon Jenifer was born with congenital amputation, but that didn't stop him from becoming a successful track athlete and top wrestler in high school. In 1992, Trey started playing wheelchair basketball with team Air Capital in Washington D.C., eventually becoming a three-year captain and two-time All-American for the Edinboro men's wheelchair basketball team. He then played professional basketball for two years overseas in France.
A published author, husband and father, Trey is an advocate for equality and equity, shining his light on issues that individuals with disabilities face within our society. Since embarking on the Paralympic stage in 2009, Trey has continued to empower all athletes on all levels in their respective sports. He uses his athletic platform to spark difficult conversations with high-ranking personnel within government, corporations and private agencies
Meet Trevon and see his Global Volunteer Month post on Instagram.
View this post on Instagram
Hollis Belger
Eighteen-year-old Hollis Belger founded Juggling for Jude when she realized she had a knack for juggling — a skill she recognized after joining a competitive soccer team at age 8. Through a combination of soccer juggling, appearances at special events and public speaking, Hollis has raised more than $660,000 for St. Jude Children's Research Hospital, with the help of thousands of individual donors, juggler volunteers and partners supporting her cause.
Hollis has since become an advocate for youth in philanthropy, speaking and writing about how young people can take a passion and turn it into a way to get involved with the causes they care about. Having completed a Certificate in Philanthropy and Nonprofit Organizations through Northwestern University's School of Professional Studies, she's currently working with Howard Moskowitz, PhD, a pioneer in the field of consumer analytics and market segmentation. Together they are applying his research methodology and technology to help St. Jude and other nonprofits and philanthropists communicate with their audiences for maximum return.
Meet Hollis and see her Global Volunteer Month post on Instagram.
View this post on Instagram
Shreya and Sahana Mantha
Shreya and Sahana Mantha created the Foundation for Girls in 2012 to economically empower marginalized women and support their children. Since economic empowerment is the way to financial independence for women, these sisters spotted an opportunity to utilize their knowledge and passion to pave the way for future generations of women to be more equipped for economic success.
The organization's four-pillared approach invests in women to become financially savvy, digitally capable, career confident and socially connected. The programs are based on the organization's theory of change model and are crucial enablers for women to accomplish their financial, career and personal goals. Through FFG programs, women summon the courage to commit to action which builds competence and, in turn, gives them confidence.
Meet Shreya and Sahana and see their Global Volunteer Month post on Instagram.
View this post on Instagram
Share this post