Atlanta Mother & Son-In-Law Bond by Volunteering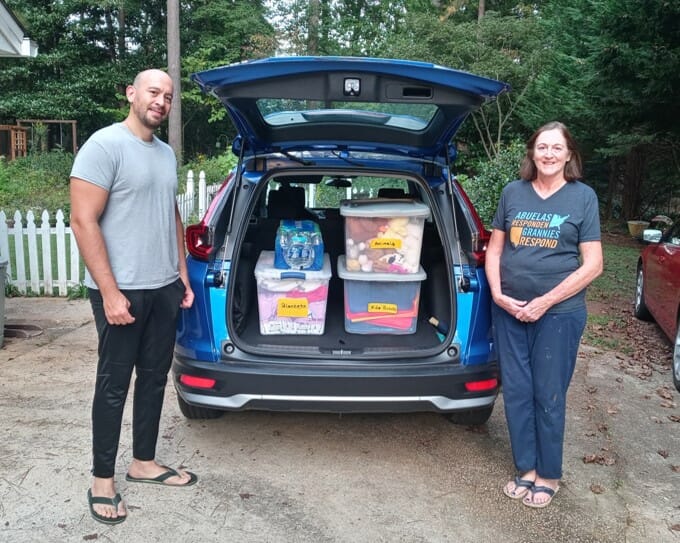 A native of Atlanta, Stephany Cross met Juan Juliao through her daughter Maya. Maya and Juan met while she was serving in the Peace Corps in Colombia, and they have been together ever since. Originally from Barranquilla, Colombia, Juan moved to the United States in April 2021 to marry Maya. In Stephany's words, that's when she and Juan "became buddies." The two grew closer as they planned Maya and Juan's wedding together.  
Their volunteer story began when Juan was looking for something useful to do while waiting for his work visa to process. Stephany suggested he try volunteering and Juan began helping Atlanta Transit Angels. He had such a great experience that he asked Stephany to join him.  
Atlanta Transit Angels, a collective of volunteers, greet refugees and asylum seekers at Atlanta bus stations with smiles, food and basic supplies. Most travelers only have their bus ticket, paperwork and a plastic bag filled with whatever a previous volunteer organization has provided at the border. It's not uncommon for someone to have gone without food or water for close to 12 hours by the time they reach Atlanta.  
What does an average day of volunteering look like for you?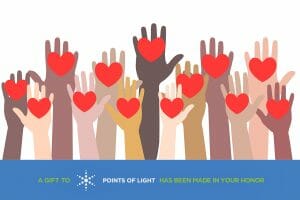 Stephany: On Monday mornings, we get to the bus station and begin setting up water, fruit, soup and other supplies. We also have stuffed animals, coloring books and crayons for the children. Then we stand and wait patiently for the buses to come in.  
The arriving refugees are apprehensive, tired and nervous, so we just want to make them feel comfortable. We often go out to them, helping to wave them into the station to rest and get some food and water. While at the station, we also hand out bags with hygiene supplies like toothbrushes and toothpaste and hand sanitizer, since most don't have anything like that with them. We even have diapers for the babies.  
Do you have a favorite volunteer or service memory together?   
Juan: Definitely the little kids. When they arrive, the children look so sad. Then Stephany gives them a toy or coloring book, and their whole attitude changes. They are really happy during the time they spend at the station. After all they have been through, it's nice to provide a little bit of relief.  
Stephany: For me, it's nice to spend time with my son-in-law. We've gotten to know the bus drivers, the staff at the bus stop and even people from the local businesses nearby. There is a mercado close by where we get tacos with the other volunteers and talk about the refugees and what we could do better or differently for them. Ultimately, it's the little things we experience together – seeing someone smile who came in looking tired and sad.  
Points of Light research uncovered that most people in the United States have the desire to help, but over 40 percent don't know where or how to get started. What advice would you give someone looking to get more involved in their community? 
Juan: I would suggest looking for a local website that shows different options for volunteering. I came across HandsOn Atlanta, and it's been helping me try new things and figure out what I am looking for in a volunteer opportunity. Try different things until you find what you like. 
What can others learn from your experiences? 
Stephany: Helping people, even in a small way, can be a big thing in their lives.  
Juan: Although most travelers are using Atlanta as a jumping off point to their final destinations, we've created a community inside the bus stations with the manager, staff and neighboring businesses. We hope it gives them just a little feeling of home on their journey.  
---
Valentine's Day is the perfect time to honor friends and loved ones making a difference in your community with a gift in their name. Your gift today helps our global network of  177 affiliates across 38 countries. Together we are inspiring, equipping and mobilizing more people to use their time, talent, voice and resources to create positive change in their communities. Because of your generous support, we can continue offering creative and impactful ways for people to take action to solve critical problems.
Share this post