Captain Chip Miller of The USS George H. W. Bush Honors President George H. W. Bush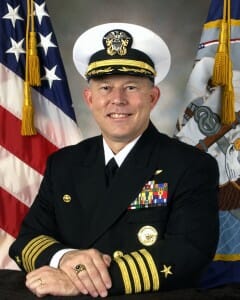 Today's guest post is written by Captain Chip Miller, Commanding Officer of the USS GEORGE H. W. BUSH (CVN 77) as a Tribute to President George H. W. Bush and to honor him for the upcoming Points of Light Institute Tribute event celebrating his extraordinary life of service.
"No doubt, President Bush is an inspiration to all.  His Points of Light "challenge" has been answered by thousands and the impact both he and Mrs. Bush have had on our country has been profound.
My name is Captain Chip Miller and I have been blessed for the past two years to be the Commanding Officer of the U.S. Navy Aircraft Carrier that bears his name.  A ship that will serve our country honorably for the next 50 years.  Every day onboard CVN 77 begins with 3,000 Sailors reciting: "Like our namesake, I am a professional who will serve my country with integrity."  Powerful words that motivate, and will continue to motivate and inspire every Sailor attached to this ship for the next 50 years.
I'd like to describe two programs that flourish onboard CVN 77 because of the profound positive impact of both President and Mrs. Bush:
– Thousand Points of Light across Tidewater:  For the last two years on the President's birth month, we sent 2,000 Sailors to various sites in and around our home port of Norfolk, VA to perform community service.  The effort takes months to organize and is coordinated by our Command Religious Ministries Department.  In one day, we perform 16,000 Community Service hours.  This program is augmented by smaller community service projects conducted every weekend in port.  Over a two year period, CVN 77 performed almost 30,000 hours of service to our surrounding communities.  We wear the points of light on our command patch and take seriously our namesake's "challenge" make a difference.
– United Through Reading (UTR) meets The Barbara Bush Foundation for Family Literacy:  More than one million American children are separated from one or both parents due to military deployment.  UTR is a National program designed to unite families facing physical separation due to military deployments and does so on board CVN 77 where deployed Sailors record themselves reading books to their children on board the ship.  These recordings are mailed home where their children watch and share an intimate reading experience with their deployed parent. This program holds extra meaning onboard CVN 77 because of Mrs. Barbara Bush's passion for family literacy.  Her motto: "The home is the child's first school, the parent is the child's first teacher, and reading is the child's first subject." Again, this program holds extra meaning on board the ship that bears the Bush name.
Clearly all who serve in our armed services take great pride in serving our country, but for those of us defending freedom onboard USS GEORGE H. W. BUSH (CVN 77), that service has extra meaning because we also represent our namesake, his family and their legacy."
Captain Chip Miller
Commanding Officer
USS GEORGE H. W. BUSH (CVN 77)
Share this post