Creating Connection With Spark the Change Colorado and Samen voor Eindoven
A global movement for good requires the power of volunteerism, service and civic engagement. And that's exactly what Points of Light Global Network affiliate Spark the Change Colorado is on a mission to do: spark change and inspire a movement of good, leading to a world with stronger, more resilient, equitable and connected communities through the power of volunteerism.
Spark the Change provides direct services and volunteer programs, as well as resources, training and support for organizations and community leaders. Kelly Groen, director of Spark the Change's Mental Wellness Program, talked to us about their unique mental health initiative.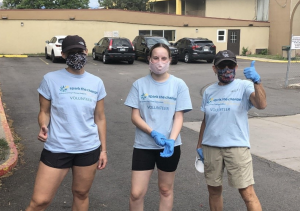 "Our mission for the Mental Wellness Program is to connect licensed and insured mental health professionals who volunteer their time and expertise to low-income Coloradans in need of counseling," she said. "First, we connect volunteer private practitioners to pro bono clients through our private practice referral line. Second, we operate a host site model, where we place a volunteer professional at an established host site, such as a school, shelter or nonprofit, to provide mental health support to clients and staff at the site."
Most often, barriers to mental health are financial or related to accessibility within traditional avenues. Spark the Change's clients are often unable to afford treatment due to being uninsured or being unable to afford deductibles or copays. Many clients are also unable to find an appropriate or available clinician through other avenues of care.
"Through our host site model, we're also able to lend support to the clients being served by other leaders of service in our communities," says Kelly. "We form partnerships with schools, shelters and service nonprofits across the state, working in tandem to find a volunteer who can meet the unique needs of their population. Volunteers are placed within these organizations free of charge, to better support the mental health needs of clients and staff. We provide services to individuals, couples, families and groups, and our volunteers serve clients of all ages." 
From helping with issues like anxiety and depression to stress management, grief, loss, family issues and coping with life changes, Spark the Change's Mental Wellness Program is making mental health a priority — in a time when these types of issues are front and center.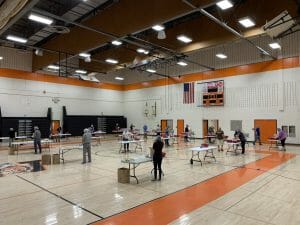 Another Points of Light Global Network affiliate, Samen voor Eindoven in Eindhoven, Netherlands, is the bridge between companies, social organizations and the local government to work toward a more cohesive and inclusive society. Samen voor Eindoven means "Together for Eindhoven" and the organization works to design and implement corporate volunteer programs. 
"Corporate volunteers embrace our values and are committed to making a vital contribution to our local community. By using their professional skills and talents for community organizations, corporate volunteers themselves experience more meaning and job satisfaction," says Esther Hofstede, founder and director of Samen voor Eindoven.
Through the use of smart technology, Samen voor Eindoven is able to mobilize corporate volunteers through a digital platform, maximizing efficiency, impact and flexibility. Social volunteers can enroll in recurring calendar programs and skill-based programs. 
Corporate volunteers engage with initiatives like donating "wishtrees" to almost all 23 nursing homes in Eindhoven, creating a website for Eindhoven residents with foreign roots, making video calls to people who are currently unable to go outside and publishing a "feel good newsletter" with only positive news, sent to elderly residents of nursing homes.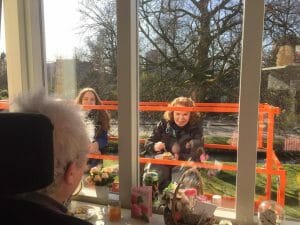 "It turns out that when you really put corporate volunteers in touch with groups in need, there is more understanding and the gap between the groups is reduced," Esther says. She encourages increased corporate volunteering, which she calls "a win-win: impact for the beneficiaries and volunteers, substance for the Corporate Social Responsibility policy of companies, and a more attractive workplace for involved employees."
Kelly Groen at Spark the Change Colorado encourages volunteers to get involved: "While there are countless ways to make an impact, including mindful recognition of your individual purchase power and using your voice and vote to make a difference, volunteerism will always be a necessary cornerstone of civic engagement. There are a multitude of benefits to volunteerism, both to the community being served and the individual serving. There is no comparison to the feeling you get from giving your time and talents to improve the lives of other members in your community."
Connect with Spark the Change Colorado on Facebook, Instagram, Twitter, and LinkedIn. 
Connect with Samen voor Eindoven on Facebook, Instagram, Twitter, and LinkedIn.
Share this post