Gabrielle and Aiden Levy of Caring Kids Cards Attend Tribute event "All Together Now: A Celebration of Service"
Today's guest post is written by Gabrielle Levy, co-founder of Caring Kids Cards, a third grader in Fairfax, Virginia who started volunteering when she was three years old.
I started a program with my brother called Caring Kids Cards. My brother Aiden is in Kindergarten. Caring Kids Cards was started because we went to an Orphan Foundation of America event in 2005. We had lots of fun making cards and liked doing it. We decided we wanted to send cards to other places, like senior centers, the military and hospitals. We feel happy to be making the cards because we know people will enjoy them and the cards will put a smile on people's faces.
One day my brother and I were contacted by Points of Light Institute to be filmed for the Tribute event "All Together Now: A Celebration of Service." Before we were chosen I talked to the producer about my experience with volunteering and how I became motivated. The filming was in New York. It was exciting because I was never in New York City before.
After we went to New York our segment was cut. I was pretty upset about it. But it was not about being on T.V. it is about making a difference!!
We are glad we were able to go to the event at the Kennedy Center. To get ready for the event we made cards.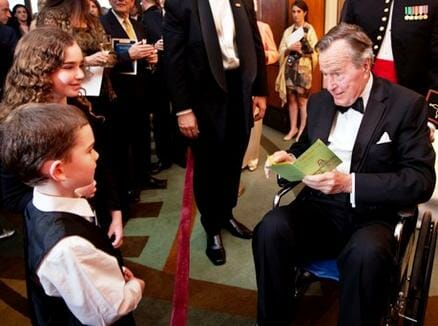 David Hume Kennerly Photo
When we arrived at the Kennedy Center we went to a VIP reception. President George H. W. Bush gave a speech. After he was done with the speech my brother and I gave him Caring Kids Cards we made. He appreciated the cards. We took a picture with him. Then President George H. W. Bush shared the cards with Mrs. Bush. I will share those pictures of us with President George H. W. Bush with people when I talk to them about volunteering.
After the reception we got our tickets. Then we sat down in our seats. After everyone was seated the Presidents came in. The four living Presidents came. Barack Obama was not there. He was on a trip.
We heard people sing, then the Presidents talked, then there was a video. Then more songs then another President would talk and there would be another video. Singers talked also.
After it was over, the Presidents left first. Then everyone else left. Then my family and I went to the parking lot and drove home.
I was sad that the video they filmed of me in New York was not being shown, but in the end I was very happy that we were able to meet President George H. W. Bush and give him our cards. Giving President George H. W. Bush the cards was the best part of my night. It would be neat if President George H. W. Bush's grandchildren or President Obama's children made Caring Kids Cards one day.
I had a great once in a life time experience. I am glad I was able to do this with my family. I hope this tribute to President George H. W. Bush helps motivate other kids to volunteer.
My brother Aiden would like to say a few words, "We had a good time at the Kennedy Center. We had lots of fun."
You are never too young or too old to volunteer!! Thank you President George H. W. Bush for creating a great program, the Points of Light Institute. No matter where you live you can volunteer and it will always be fun.
Some might think that I am too young to volunteer, but that is not true. Volunteering is fun. You can do it with your family. Click here to read about what kids and families can do on my website.
I can also use help people with making cards. You can email me at [email protected] if you want to make some with your family or a group.
Share this post