Celebrating Global Volunteer Month with Inspiration from Corporate Sponsors and Partners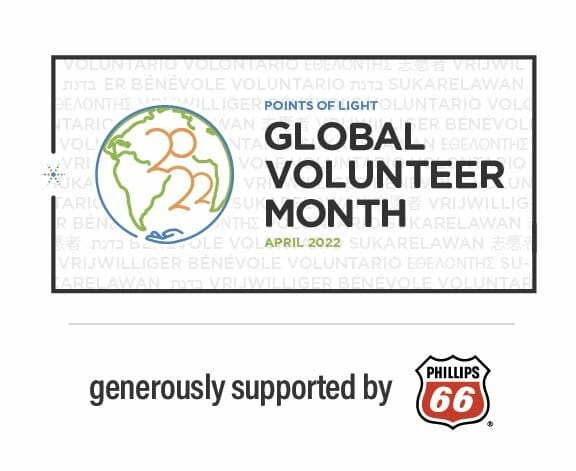 Global Volunteer Month is at the halfway point, and Points of Light is thrilled to recognize some of our corporate sponsors who are doing incredible things to mobilize around this landmark event to promote greater civic engagement.
Phillips 66
Good Energy, Phillips 66's employee volunteerism program, inspires employees to connect with their neighbors by sharing compassion, talents and hard work to improve communities. As the Lead Sponsor of Global Volunteer Month, Phillips 66 aligns its interest in supporting the community with a broader initiative designed to shine the light on the power of people to impact some of society's greatest challenges.  
Thrive Global
Thrive Global leverages technology to help individuals, corporations and communities improve their well-being and performance. Leading into Global Volunteer Month and in partnership with Points of Light, Thrive Global launched the Civic Engagement and Purpose hub on their website dedicated to sharing stories and videos from social impact leaders through personal narratives, tips, expertise and the latest science on how changemakers can prioritize their own well-being even as they work to improve the lives of others.
ADDITIONAL Corporate Partners
A number of Points of Light's partners also designate the month of April as their Global Month of Service and galvanize their employees by promoting the importance of volunteering and creating opportunities for impact through acts of service. Among them are longtime partners UPS, Bank of America and Starbucks. 
UPS
In 2020 UPS committed to planting 50 million trees by 2030 in an effort to have a measurable impact on the environment while giving special attention to improving air quality and fostering healthier outcomes in city environments. This sustained initiative aligns with the celebration and recognition of Earth Day each April. The UPS Foundation is a supporting sponsor of Points of Light.
Bank of America 
Bank of America leverages the month of April to further unite the company behind the concept of giving back, celebrating their passion for community during "Global Service Month." During this time, they plan special volunteer activities and recognize the spectacular work that team members do throughout the year.
Starbucks
For Starbucks, one day or one week didn't allow enough time for hundreds of thousands of Starbucks employees to participate in community service projects. Instead, throughout April, the company celebrates these partners' daily commitment to improving their local neighborhoods by shining a light on service for 30 consecutive days. During the month, partners around the world lead service projects and invite other partners, customers and community members to volunteer with them. 
Points of Light knows our corporate partners are extraordinary when it comes to corporate social responsibility. We are proud of the way these corporations are using their resources to promote employee civic engagement and support the volunteer efforts of their workforces. They are a integral part of what will unfold across the world this year during Global Volunteer Month! 
Share this post