Let's Help AmeriCorps Alums Use Their Experience to Keep Giving Back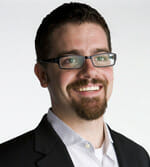 Today's post is by Ben Duda, executive director of AmeriCorps Alums, a Points of Light enterprise. (It originally ran on the website of social media expert Beth Kanter).
Last summer, I met a young man in Arizona named Kyle. He had spent his AmeriCorps term as a liaison between a mayor's office and the homeless community, building relationships and creating resources. But even with all that valuable experience, Kyle was stuck working double shifts at a local pizza joint.
Countless organizations could benefit from Kyle's skills, yet there is no system connecting national service alumni with nonprofits and public sector agencies most in need of young talent.
We at AmeriCorps Alums are working toward a solution by launching Employers of Service, a program exploring how we can link national service experience and a career pipeline. We're kick-starting this initiative and conversation on June 20 in Washington, D.C., at Points of Light's Conference on Volunteerism and Service, which runs from June 19 – 22.
During the conference, I'm hosting a session – AmeriCorps Alumni as Leaders: How to Grow as a Leader After Your Term of Service – showcasing Echoing Green's Work on Purpose platform, which applies lessons from social entrepreneurs to professional development strategies for young people looking to make a difference. The session will also feature a roundtable conversation and Q & A with three nonprofit leaders (all AmeriCorps alumni­): Linda Kay Klein, director of Work on Purpose; Michael Omenazu, recruitment manager at Commongood Careers; and Nakeisha Neal, executive director of Public Allies Washington, D.C.
The discussion is just part of a larger conversation about innovation and uniting communities woven throughout this year's conference, the largest gathering of its kind, assembling roughly 5,000 nonprofit, corporate and government leaders. It will feature such big names as Grammy award-winning singer John Legend, New Jersey Gov. Chris Christie and social media expert Beth Kanter. Will you join us? Click here to register. (AmeriCorps Alums will also be featured at the 21st Century National Service Summit convened by the Franklin Project at the Aspen Institute later this summer.)
We often hear of an impending leadership shortage in the nonprofit sector. Meanwhile, more than 800,000 AmeriCorps alums are uniquely positioned to be the sector's 21st century leadership pipeline. Together let's figure out how to leverage this tremendous resource to benefit smart, young people with fresh ideas, while better serving our communities.
We'd love to hear about your experiences and ideas. Share them with me at [email protected].
Share this post