Plans for the Largest Day of Charitable Activity in the Nation's History Unveiled for 9/11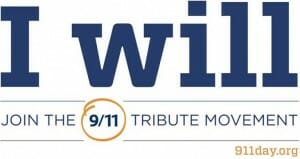 Yesterday Republican and Democratic U.S. Congressional leaders came together in a show of bipartisan support for a nationwide effort to inspire millions of Americans to voluntarily engage in charity, service and good deeds in observance of the upcoming 9/11 Day of Service and Remembrance and the 10-year Anniversary of the attacks.
They joined 9/11 family members, survivors, rescue and recovery workers, and volunteers to help stitch The National 9/11 Flag that was damaged in the aftermath of the collapse of the World Trade Center nearly a decade ago.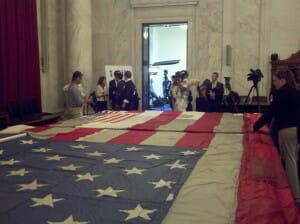 The National 9/11 Flag made its first appearance in Washington, DC as it is currently on a journey across America through the 10-year Anniversary of 9/11 led by The New York Says Thank You Foundation. The goal of The National 9/11 Flag Tour is to display this historic flag at leading venues nationwide, to empower local service heroes in all 50 states with the privilege of stitching the flag back to its original 13-stripe format, and to inspire 300 million Americans with the flag's rich visual history in order to deepen our sense of citizenship and national pride and bolster the spirit of volunteerism on the 9/11 Anniversary and year-round. Once fully restored, The National 9/11 Flag will become part of the permanent collection of the National September 11 Memorial and Museum.
"Our hope is that The National 9/11 Flag will forever tell the story of the sense of unity and volunteer spirit that brought our Nation together on 9/12." said Jeff Parness, founder of New York Says Thank You Foundation.
MyGoodDeed and HandsOn Network, the volunteer activation division of Points of Light Institute, are the lead organizers of the 9/11 Day Observance. Organizers expect this year's 9/11 Day Observance to be the single-largest day of good deeds, charitable activity and service in United States history, with at least one million Americans paying tribute through good deeds and charitable service to the 9/11 victims and survivors, and those who rose in service following the attacks, including military and public safety personnel.
"The 10-year Anniversary of the 9/11 attacks is a national touchstone that unites us all. It is a time for people to come together and use their power to create change in their communities," said Michelle Nunn, CEO of Points of Lights of Institute. "HandsOn Network will directly mobilize 50,000 people to use their time, talent, voices and resources to create a positive, lasting legacy of service that addresses the challenges we all face."
Join our Tribute movement today.  Click here to post ways you will tribute or honor 9/11 on the website!
Click here for more information regarding the National 9/11 Flag Tour.
Share this post