UPS: In Service of Human and Civil Rights
Several months ago, when we looked ahead to April and to our first-ever Global Volunteer Month, we did not imagine the world as it is today. We could not have foreseen the way in which our world would change or the ways in which service, or communities, or neighbors would take on whole new meanings.
Throughout Global Volunteer Month, we'd planned to recognize volunteers around the world and the positive impact they're having in their communities and beyond. Today, as the coronavirus pandemic continues around the world, that mission seems even more important than ever.
Of course, we have some tremendous corporate partners at Points of Light who help communities as well. These organizations are using their enterprises, their resources and their employees to do good, and we'll be shining a light on them as well this month.
One such company that immediately comes to mind is UPS, our Global Volunteer Month Supporting Partner. This massive, global organization is using its size and scale – every day – to make a real difference in local communities.
This week's Global Volunteer Month theme is Human and Civil Rights, and UPS has been a consistent and compelling leader in this area.
For example, we often think of humanitarian aid in the context of political conflicts or famine, but it also encompasses disaster relief. In these situations, the ability to move desperately needed supplies into an area quickly and efficiently – often with little notice – is key. It's all about logistics. For UPS, logistics happens every day, all day. As the world winds its way through the uncharted waters of a global pandemic, UPS's role has become even more clear: the company is delivering life and hope.
UPSers believe that in order to have strong, productive communities, we must first have safe communities. (We agree!) That's why – for disaster preparedness as well as relief and recovery efforts – UPS and The UPS Foundation provide significant financial and in-kind contributions to help support organizations such as the American Red Cross, Salvation Army, World Food Program, UNICEF, CARE and United Nations High Commissioner for Refugees. As the coronavirus pandemic continues, UPS is delivering urgently needed materials through its global relief network and using its logistics expertise to help customers who are pivoting their businesses to join the fight.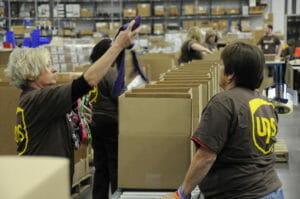 Incredible.
But what about when there's not a crisis? The company's commitment to human rights is just as strong and steadfast. Consider this: Every day the company delivers more than just packages; they deliver solutions that help facilitate commerce, build businesses and strengthen communities. Just by doing what it does millions of times in millions of places every day, UPS supports trade and innovation, which helps businesses thrive and helps working men and women gain access to economic opportunity. This type of free, fair and open trade creates an environment where human rights can be protected and advanced. This commitment also extends to UPS's philanthropy, which is based on the knowledge that our differences make us stronger. To bring this to life, The UPS Foundation supports human and civil rights-centered programs to empower individuals and help safeguard communities of all kinds. UPS's respect for and work in support of these rights makes them a proud supporter of the United Nations Guiding Principles on Business and Human Rights and a leader on these issues within corporate America.
We have so many great examples of corporations doing wonderful things in their communities. We look forward to highlighting even more of these organizations throughout Global Volunteer Month!
To learn more about Global Volunteer Month, and to find information on how you can make a difference and be a #LocalLight in your community, please visit: https://www.pointsoflight.org/global-volunteer-month/
Share this post