Fulfilling a Childhood Dream, Volunteer Uses His Life Savings to Transform a Community
There are few people in the world who would willingly use their entire savings to help those in need, but Arup Kumar did so eagerly. In 2011, the Purulia, West Bengal, India native used all of his financial resources to create Puncha Nabadisha Model School for children of the Sabari tribe. Over the course of a few years, the school has grown tremendously, providing educational resources to more than 120 tribal children. What started off as a group of 20 has transformed into a source of hope and opportunity for an entire community.
Arup not only created the Puncha Nabadisha Model School for fostering education, but to also offer children clothes, toiletries, decent meals and contribute to a reduction in crime rates in his neighborhood. Through his generous investment, Arup gives children a chance at a life full of stability, hope and encouragement.
When Arup was a child, his grandfather told him that the Sabar tribe was blamed for local theft crimes. When he asked his grandfather why this was a reality, Arup was told that many people were poor, uneducated and unemployed. 
"I told my grandfather that we would make a school for them and work for the livelihood of their generations to come," said Arup. When he started his first job, he immediately began saving his money. After ten years of work, and the generosity of friends and family, he had enough to apply for a loan.
Finally, Arup's childhood dream and promise to his grandfather came true, and he purchased a school building. He eagerly began to enroll the children of parents who were i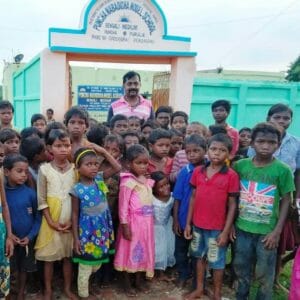 nvolved in theft and crime in their community. "The Sabar tribes now call me 'Police baba' and 'Sabar's father,'" Arup said. "The Sabar tribes of the Purulia districts love me, and I want to help them in any possible way I can."
According to Arup, all communities deserve quality education. Additionally, he believes that people should have food and shelter, but "education makes us better humans and helps the livelihoods of generations to come." Education has the power to encourage others to do more for society. He wants to inspire everyone to stand with the motive needed to make positive changes and show the world that anyone can do what they set their mind to, even if you originally believe you are alone.
Arup never imagined winning awards for his service, but he has received more than 60 awards and honors from various organizations, including Points of Light Global Network affiliate iVolunteer. Arup was recognized during the 2020 iVolunteer Awards, which recognizes individuals who celebrate, reward and promote volunteering across India. Arup continues to embody the excellence in individuals that are transforming the lives of communities across his nation. 
Arup wants others to learn that instead of solely focusing on wanting your children to become doctors or engineers, families can teach them to be humans first. He believes that if we teach our youth to be genuine human beings with emotions and motivation to help others, more tribes similar to Sabar will find support.
"Helping others is beyond an experience," said Arup. "I want to do this as long as I'm alive."
In light of COVID-19, nonprofits, companies and individuals are adapting the ways in which they serve their communities. Visit www.pointsoflight.org/global-volunteer-month to find creative ways to make a difference and be a #LocalLight in your community during Global Volunteer Month.
Share this post