Glasswing International and Hands On Atlanta Help Students Dream of a Brighter Future
Without access to affordable after-school activities, students who already come from a cycle of poverty or violence often only know of that world and could be led to spend their after-school hours wandering with the wrong crowd.
Knowing that these students deserve better, Points of Light Global Network affiliates Hands On Atlanta and Glasswing International have both worked tirelessly to provide after-school or weekend programs to help students in their communities stay in school and empower them to dream of a brighter future.
Glasswing International
Glasswing International was founded in 2007 by Celina de Sola, her brother Diego and husband, Ken Baker in San Salvador, El Salvador, with a simple goal to "foster change by investing in a community's existing strengths and resources – its infrastructure and its people."  
With a number of offices across Latin America, Glasswing helps reform public schools throughout the region with initiatives such as after-school programs, mental health committees, and extreme makeovers.
On a weekly basis, hundreds of young volunteers will donate their time to lead clubs such as glee, debate, English, science, sports, and more at more than 1,000 after-school programs across 6 countries.  
"For the young people we work with, who come from some of the most dangerous neighborhoods in Central America, after-school programming is far more than a convenience," de Sola said. "In these communities, educational programs can transform lives."
Gabriela's story is the perfect example of that.
For Gabriela, a 15-year-old from El Salvador, her father meant everything to her. So when he was taken to jail four years ago, she became depressed. Her grades started to plummet and her family started having financial problems at home.
"Everything was spiraling downward, including my self-esteem," she said. "I felt everybody was judging me for my father's mistakes."
But then she decided to enroll in the Girls Club provided by Glasswing and her perspective slowly began to change.
"I will never forget the topic I liked to learn about the most – it was to value myself," Gabriela said. "It was a way of realizing that I was more than my family problems… and I had to keep fighting to create my own life."
Today, her grades have improved and she credits Glasswing for helping her through her hardest time.
Hands On Atlanta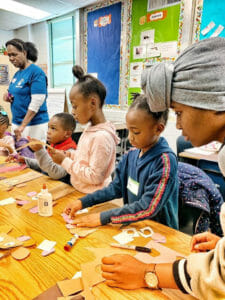 Saturday mornings in Atlanta bring a special group of youth and volunteers together. Hands On Atlanta provides an enrichment program for over 800 students from kindergarten to fifth grade.
The program, called Discovery, partners with 11 schools in the metro-Atlanta area that have been deemed title 1 schools, which means at least 40% of the students come from low-income families.
From robotics and coding, to art and fitness, students are able to learn a variety of educational lessons from volunteer mentors on two Saturdays a month throughout the school year.
The lessons go beyond just the typical science and math lessons, however. Students are able to learn how to deal with their emotions, cultivate strong relationships and show initiative in taking responsibility.
"Discovery provides a way for students to connect to education without the pressure of grades and performance," said Candice White, program manager of Discovery. "The students are able to engage with mentors, individuals in the community that truly want to see them grow."
For these students who come from disadvantaged backgrounds, programs like Discovery enable them to dream bigger than what their current situation allows. And all of this wouldn't happen without the nearly 2,000 volunteers who dedicated more than 9,500 hours last school year.
For nonprofit organizations, like Glasswing and Hands On Atlanta, de Sola said, "volunteers are truly the "motor" that keep the entire operation running."
If you're considering whether or not to volunteer this Global Volunteer Month, maybe White's favorite quote will motivate you: "A candle loses nothing by lighting another candle," by James Keller.
"That's something everyone should remember when it comes to serving," White said. "Not only is it self-gratifying, but it is something that makes our whole entire community better." 
In light of COVID-19, nonprofits, companies and individuals are adapting the ways in which they serve their communities. Visit www.pointsoflight.org/global-volunteer-month to find creative ways to make a difference and be a #LocalLight in your community during Global Volunteer Month.
Share this post