Ways to Engage your Company in Global Volunteer Month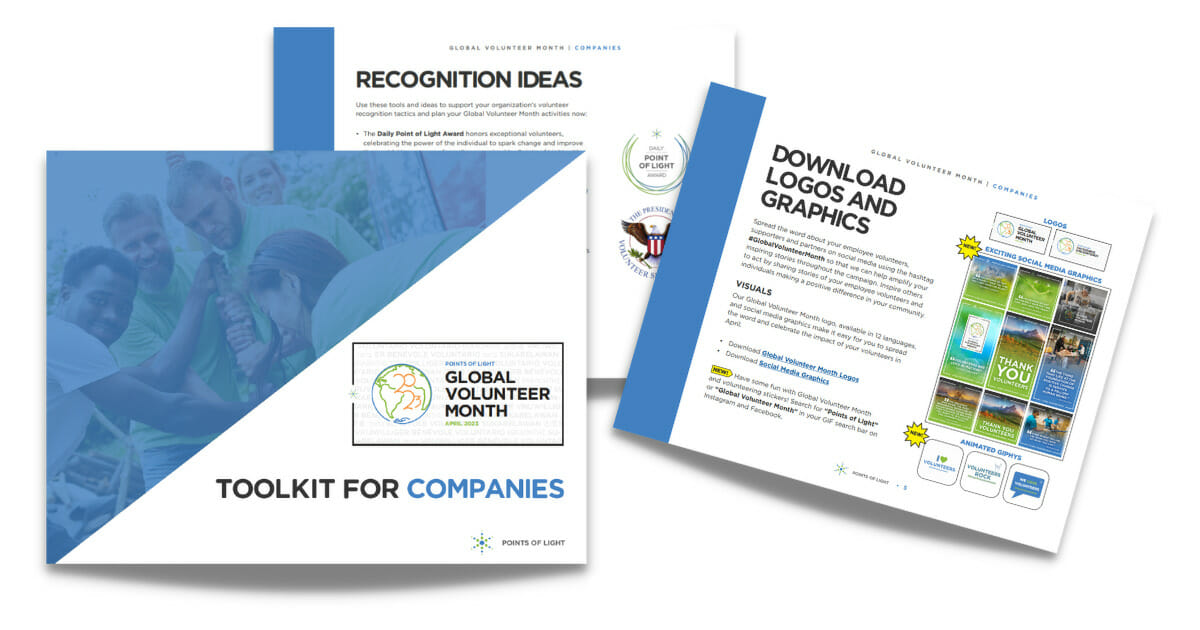 This month, take a short pause to celebrate the power of people who tackle society's greatest challenges and build stronger, more vibrant communities through volunteerism and everyday actions.
Starting April 1, Points of Light and organizations around the world join together to celebrate Global Volunteer Month. Throughout the month, we invite you to shine a light on the employees who use their time and talents to volunteer or engage in their communities through one of the components of Points of Light's Civic Circle®. Want to see what that could look like in practice? Keep reading.
First things first, download the Global Volunteer Month Toolkit for Companies to access tools and resources to help you participate. Then, check out the following simple ways your company can get involved this year:
Amplify your company's social impact work by highlighting your employee volunteers and the impact they have year-round in the communities where they live and work. Share volunteer stories on social media using hashtag #GlobalVolunteerMonth and tagging @PointsofLight to inspire others in your community and around the world.
Send a note from senior leadership that recognizes your company's commitment to creating change. In the toolkit, you'll find sample messaging along with links to graphics we encourage you to use.
Share our Civic Life Today digital magazines with employees to remind them of all the ways they can make a positive difference in their community.
Contact your local Points of Light affiliate to learn what communities need and how your employee volunteers can help.
Search our database for volunteer opportunities, or our Virtual Volunteer Guide, and don't forget to check out our DIY projects that volunteers can do from home.
Thanks to our lead sponsor, Phillips 66, and supporting sponsor, UPS, during the month we'll be spotlighting individuals and organizations that are making a difference in their communities. We invite you to read and share these stories to showcase ordinary people doing extraordinary acts, big and small, with the goal of making this world a little better for others. Happy Global Volunteer Month!
Share this post