The Points of Light Inspiration Honor Roll
Celebrating Outstanding Individuals
Every action, no matter how small, can make a difference.
In 2020, we created the Points of Light Inspiration Honor Roll as part of The George H.W. Bush Points of Light Awards Celebration. We witnessed so many ordinary people going to extraordinary lengths as the global pandemic disrupted our lives and were proud to share those stories. The Inspiration Honor Roll celebrates acts of service, kindness and civic engagement by outstanding individuals who create change in communities around the world.
We are excited to uplift these stories for a third year and show how, in communities worldwide, the power of people continues to drive us forward.
We recognize that doing good comes in many forms. The Points of Light Civic Circle shows how civic engagement represents your power to lead, lend support and take action for causes you care about. The Points of Light Inspiration Honor Roll is a perfect illustration of the many ways individuals are supporting their communities: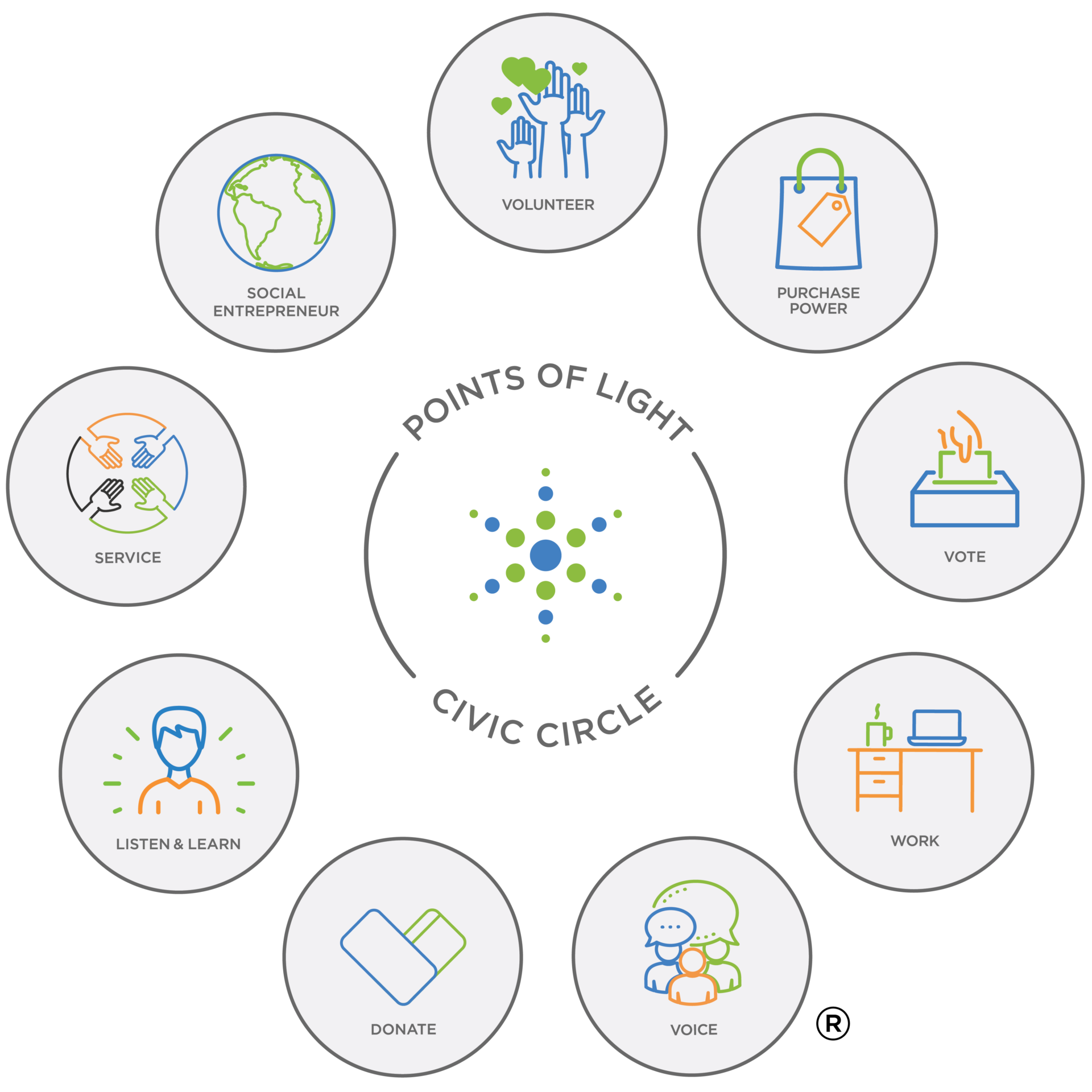 Volunteer: Donates their time and talents inside and outside of their home to help their community or a cause they care about.
Service: Commits their time, energy and skills to public, national or military service.
Vote: Supports causes and candidates who are aligned with their beliefs. In democratic societies, voting is an opportunity to participate in national and local elections.
Work: Uses their work as a springboard to advance in social issues.
Voice: Uses their voice to influence their family, friends and others to raise awareness for issues they care about.
Donate: Contributes money, services or goods to support the welfare of others or to advance ta social cause they care about.
Listen & Learn: Purposeful in educating themselves to remain informed and think critically before acting to best serve their community.
Social Entrepreneur: Has Identified a need that has not been met by traditional institutions, structures and systems, and has implemented a creative and innovative solution to drive change.
Purchase Power: Choosing where to spend or not spend money in order to support businesses and organizations that reflect their values or advance a social cause..
Check back to this page throughout the year as we add stories of courage, inspiration, compassion and dedication and help us celebrate those who shine their light for good.
Inspiration Honor Roll Honorees By Year
Inspiration Spotlights
In 2022, as part of The George H.W. Bush Points of Light Awards Celebration, we spotlighted nearly two dozen individuals (many of whom were part of our Inspiration Honor Roll) who were acting to create positive change across the world. These Inspiration Spotlights are bringing hope and compassion to others facing similar challenges in their own communities. Meet our Spotlights!
Nominate Someone for the Inspiration Honor Roll
Nominations for 2022 have now closed. Please check back in 2023 for more information.
Daily Point of Light
The Inspiration Honor Roll isn't the only way Points of Light recognizes amazing individuals. For more than 30 years, we have been elevating a Daily Point of Light as a way to inspire others to act. Learn more about the criteria and how you can nominate someone for this prestigious honor.
Daily Point of Light Criteria and Nomination Form
Learn More
Stories of Change: Daily Point of Light Blog
Learn More