Effecting Change on a Global Scale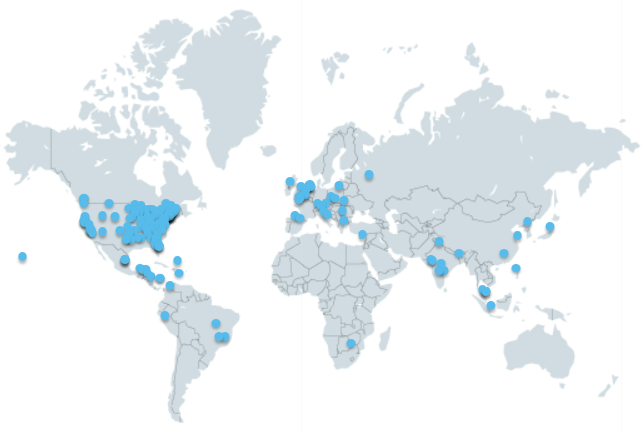 Points of Light exists to uplift those who are working to better their communities and equip nonprofits that are doing the same. Individuals rely on nonprofit organizations to provide them with clear guidance and direction on how they can lend their time, talent and resources to a cause. And nonprofits simply can't function without passionate, committed individuals to help do the work.
We believe that when future generations look back on this time, they will see it was an era of sustained, meaningful civic engagement. We see people from all walks of life and organizations across sectors working to lead, lend support and take action for the causes they care about.
Points of Light operates with a network of innovative volunteer-mobilizing organizations located in more than 250 cities and 38 countries around the world. Together with our affiliate Global Network leaders, we are inspiring, equipping and mobilizing people to engage in their communities and take action to solve problems. Together, we envision a world in which everyone discovers the power to make a difference, creating healthy communities in vibrant, participatory societies. 
What Does the Points Of light Global Network Do?
Our Global Network engages more than 1 million volunteers in 7.5 million hours of service each year. We bring the power of people where it is needed most.
Through innovative programming and custom business solutions, Points of Light Global Network affiliates offer creative ways to engage individuals in meaningful community action, maximize the impact of volunteer programs, recognize extraordinary service and much more. Each affiliate has its own unique model of service to best address the needs of their community and community partners. 
Here are just a few of the common things that our affiliates do across the globe: curate opportunities for individuals and groups to volunteer through a calendar of volunteer projects; host large-scale days or months of service such as Global Volunteer Month, MLK Day, Good Deeds Day, Family Volunteer Day and more; provide training and resources for volunteer management practices; manage National Service members and programs such as AmeriCorps, Vista or SeniorCorps (US Affiliates only); develop custom volunteer projects for corporate and civic groups; recognize and award local volunteer heroes through programs and events… and much more.
The Vital Role of Affiliates in Times of Crisis
The Points of Light Global Network became more important than ever as urgent local needs were
compounded by the war in Ukraine, the COVID-19 pandemic and other natural and human-made disasters. During the pandemic, 75% of affiliates identified an increased demand for services in their communities and 85% of affiliates identified at least a 100% surge in volunteer requests. Also, 92% of affiliates increased their local partnerships to support hunger relief, health and wellness and education, 76% of affiliates were counted as an essential service during this crisis and 80% of affiliates developed new and innovative programs to meet community needs efficiently and safely during this crisis. The Points of Light Global Network has and continues to play a critical role in supporting COVID-19 response and recovery.
Currently, many of the POL Global Network European affiliates are providing much-needed support with recruitment and management of volunteers to help displaced Ukrainians crossing the borders from Ukraine to other countries in the region, systemizing and summarizing information about helping refugees from Ukraine with volunteering, donations and pro bono services, and organizing special donations drives along with corporate and NGO partner organizations to help out crisis centers with the collection of food, equipment and medicines. They are also engaging the youth volunteering community on how they can help during this humanitarian crisis.
Civic Engagement Thrives When We Work Together
The Points of Light Global Network is playing a critical role in amplifying and educating their local partners and volunteers on Points of Light's Civic Circle, our framework for civic engagement, highlighting the most important actions – or powers – everyone can use to make positive change. 
To learn more about how these organizations are mobilizing and equipping individuals to effect change, visit Our Global Network – The Points of Light Global Network.
Share this post