The George H.W. Bush Awards Celebration of 2022 was All About Legacy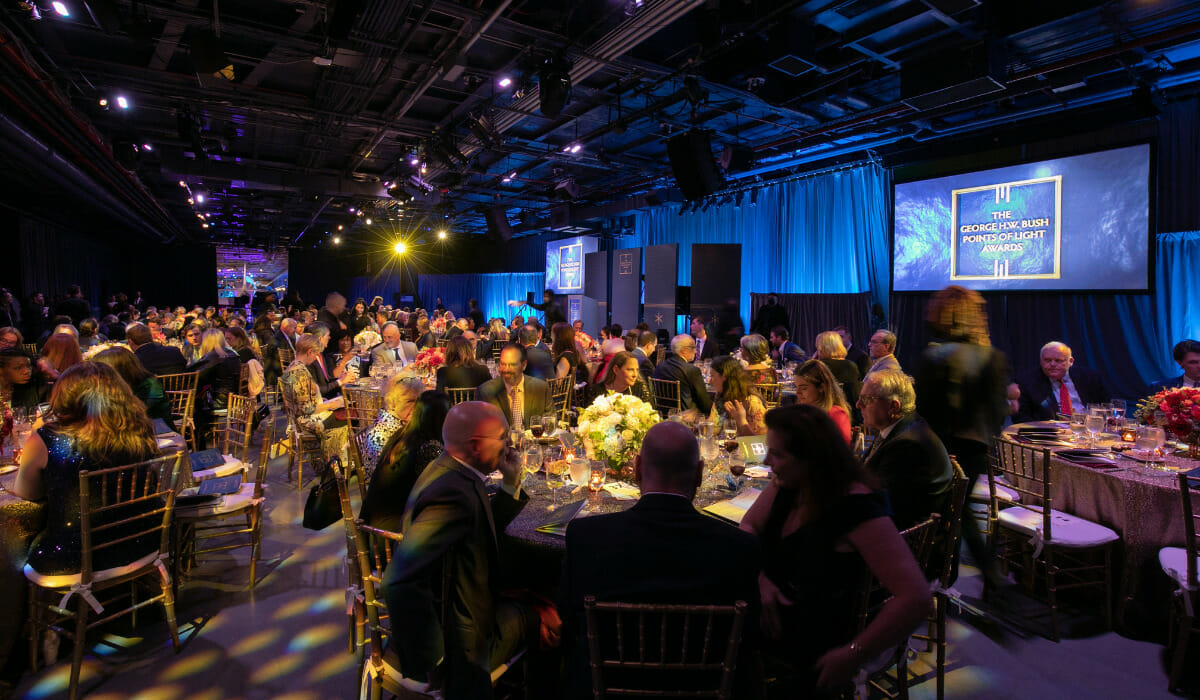 Points of Light held its fourth annual celebration of The George H.W. Bush Points of Light Awards on October 24, 2022, at the Intrepid Sea, Air & Space Museum in New York City to honor the legacy of President George H.W. Bush and the 2022 honorees José Andrés and Maurice R. "Hank" Greenberg as individuals who are living examples of civic engagement and the transformative power of service.
Living Examples of Civic Engagement
Points of Light recognizes outstanding people who have impacted not just the communities where they live and work, but around the world. The 2022 honorees included José Andrés, internationally recognized culinary innovator, New York Times bestselling author, educator and humanitarian, and Maurice R. "Hank" Greenberg, chairman and CEO of Starr Insurance Companies, chair of The Starr Foundation as well as former chair and CEO of American International Group (AIG). 
"José Andrés and Hank Greenberg shine as points of light, inspiring us all to take action toward building an inclusive, sustainable and resilient future for all," said Natalye Paquin, president and CEO, Points of Light. 
Andrés had the opportunity to accept his award in person with an inspiring acceptance speech that paid tribute to the many hands it takes to make a vision like World Central Kitchen come to life. Jeff Greenberg, chair and CEO, Aquiline Capital Partners LLC, accepted on his father's behalf, and talked about his father's legacy of service in all of his roles, from decorated United States Army veteran to philanthropist to Chairman and CEO.
The Co-Chairs
The George H.W. Bush Points of Light Awards brings a long-standing presidential legacy, as Points of Light was founded by President George H.W. Bush himself. Former Presidents Jimmy Carter, Bill Clinton, George W. Bush and Barack Obama once again served as honorary co-chairs of the event, with Barbara Bush, Jenna Bush Hager, Lauren Bush Lauren, Mike and Jacquelyne Love, Wendy Stapleton and Andy and Marie Unanue serving as co-chairs for this year's in-person event. Linsey Davis, ABC News anchor and correspondent, was the emcee.
The Entertainment
The evening featured a beautiful performance by Grammy Award-winning saxophonist and composer duo, Branford Marsalis with Joey Calderazzo. Ukrainian singer and 2022 Grammy performer Mika Newton wowed the audience with her voice and moving performance.
Everyday Inspiration
Andrés and Greenberg weren't the only individuals honored during the evening. Each year, The Points of Light Inspiration Honor Roll celebrates acts of service, kindness and civic engagement by individuals who create change in communities around the world. At The George H.W. Bush Points of Light Awards this year, 20 of these individuals were honored as Inspiration Spotlights – hailing from New York, North Carolina, India, Poland, Uganda and beyond – and recognized for all the inspiring ways they brought the Points of Light Civic Circle to  life.
The event is an annual fundraiser for Points of Light and the 2022 proceeds will continue to support our mission of inspiring, equipping and mobilizing people to take action that changes the world.
It was an inspiring evening of celebration, recognizing extraordinary acts of civic engagement and impactful individuals at this year's The George H.W. Bush Points of Light Awards. Check out Instagram and Facebook for more photos from the event, and stay tuned for details on next year's celebration and our selected honorees.
Share this post