Civic Engagement During Pride Month (and Beyond!)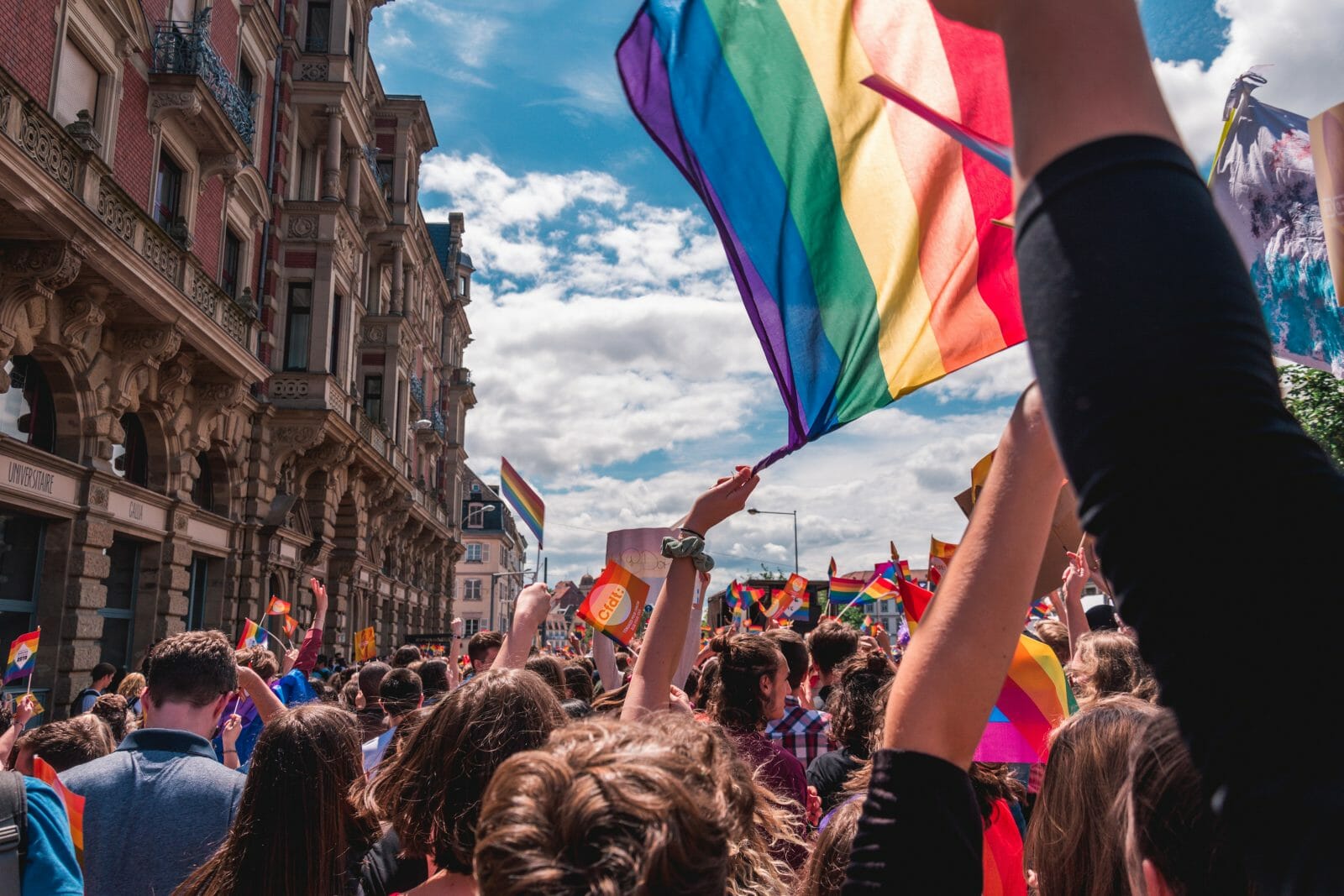 As people around the globe celebrate Pride this June, it's important to not only celebrate the progress that's been made but make a plan for continuing to advocate for LBGTQ+ rights, equality and representation.
Taking inspired action to move a cause forward does make a difference! Points of Light's Civic Circle provides a framework for individuals to lead, lend support and take action. There are multiple ways to get involved, no matter where you are or how much time you have.
Here are some ways you can help move the needle forward for LGBTQ-related causes this month and throughout the year.
Volunteer
Volunteering is one of the most accessible ways to support LGBTQ communities. There are huge needs in this space, volunteer gaps and plenty of opportunity.
Find LGBTQ-related causes and organizations to lend your time to. Or, if your community is lacking these, consider starting your own like Valerie Weisler or Loralei Cook did.
Volunteers, whether they give their time once or on a recurring basis, make a massive impact. You can browse and search for volunteer opportunities in your area or virtual opportunities on Points of Light's Engage.
Purchase Power
Where you decide to put your dollars matters. Using your purchase power is one way to get more civically engaged. The truth is, there are some brands that are LGBTQ-friendly and some that aren't.
Do your homework before you buy. Choose to buy from LGBTQ-owned businesses where you can, research which companies are supporting LGBTQ rights with their capital, voice and employee base.
Vote
Voting is a crucial part of living a civically engaged life. Your vote is your way to show support for LGBTQ rights. Stay informed on the issues affecting LGBTQ communities, doing your research not only on candidates but on proposed policies and legislation that will either advance or impede LGBTQ causes.
Then ensure you're registered and go out to cast your vote, especially in state and local elections. Every individual vote counts and collectively, change really can happen at a systemic level through voting.
Work
In the past, separating work from personal values, beliefs or identities was the norm. But times have changed. People are bringing their whole selves to work. Now, the workplace is another way you can champion the values that make up your life, including LGBTQ equality. Read our Civic Life Today: Work issue for some tips for being an ally at work.
One of the biggest opportunities for companies is to promote and advance LGBTQ causes throughout the year, not just during Pride month.
If you have the ability to select where you work, do your research carefully and consider companies that are actively working for the LGBTQ community. If you're currently working for a company that is not, consider how you can foster change from within.
Voice
Another powerful way to advance LGBTQ causes is by using your voice. Everyone has the ability to make an impact in their communities with their individual and collective voice. Using your voice could start with something as small-scale as a conversation with a friend or family member, or it could turn into a much bigger project.
LGBTQ children, teens and adults need the support of people who will have their back and stand next to them, as well as speak out against discrimination and harassment and for equality.
You can host an Allies Are Cool Workshop to educate and encourage others in allyship. LGBTQ adolescents in particular are often struggling with how and whether to use their voice, so finding ways to uplift and encourage them as an ally can make a resounding impact.
Donate
Donating allows you to contribute your money, services or goods to support the wellbeing of LGBTQ communities.
Donating to a cause financially helps the organization to best allocate your funds where they're most needed. But you can opt to donate skills and services (like Dillon Eisman) or goods (like Joe English) to meet specific needs you see in your community.
Donate to a LGBTQ nonprofit or look for underserved LGBTQ populations in your area that might need financial assistance or goods, particularly in shelters, schools or hospitals.
Listen and Learn
True allies continuously do all they can to keep listening, learning and growing. Exposure to a diverse set of life experiences helps us to see different perspectives and consider those who are different from us when we make decisions.
Students, employees and group members should feel safe expressing their true identities — whether it be their gender expression or sexual orientation. You can help promote this sense of safety by establishing a "safe zone" at your workplace, school or community. LGBTQ safe spaces at schools can help youth feel protected, supported and seen.
Not only does this protect people identifying as LGBTQ, but it helps everyone in the environment to honor each other's lived experiences, learning from our differences.
Service
While not everyone will want to or be able to engage in public service, we can all support those who do.
Public servants like Samantha Gerson and Edie Windsor are actively advocating for LGBTQ rights, often using their personal or painful experiences as motivation to make the world a more inclusive place.
A public service career may require specific training, plus giving your time, energy and talent. Whether it be the school board, city council or a national position, public servants are able to be a voice for the voiceless in the LGBTQ community.
Social Entrepreneur
Social entrepreneurs find innovative solutions to the world's toughest issues. These individuals identify a need that hasn't yet been met by the existing traditional structures.
Perhaps you're a social entrepreneur yourself or maybe you know someone who is. Do your part to support solutions to LGBTQ-related issues for individuals and societies. Keep an eye out for LGBTQ-identifying social entrepreneurs who are solving these, and spread the word about them via social media or word of mouth. If you're an investor, you might even consider backing emerging LGBTQ social entrepreneurs.
There's no shortage of ways you can help support the LGBTQ community this Pride month and throughout the year. You don't have to do it all — but picking one of the methods from our Civic Circle can make a difference, and combining a few can make an even bigger impact. Get started today and see the difference you can make in your community!
Share this post