5 Ways to Champion Sustainable Practices With Points of Light Research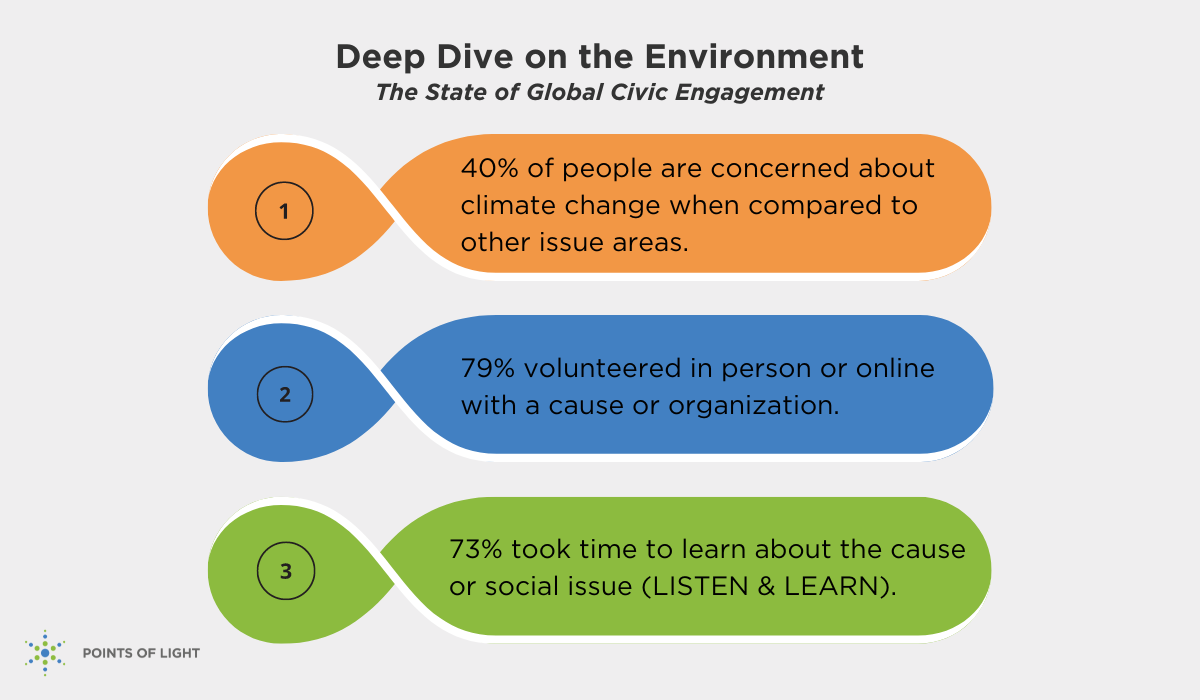 This is the first in a series on findings from Points of Light research. Check out the other blogs in this collection:
Earth Day is on April 22, and it's a natural time to think about one of the biggest threats – and opportunities for action – facing the world today: climate change. It's a global issue with big implications, including impacts on our health, our access to food, and the future of flora and fauna that support and sustain our planet. We've compiled some sustainable practices to help you make a positive impact.
Points of Light's research shows that 40% of people are concerned about climate change when compared to other issue areas, and 43% of people are concerned about the environment when compared to other issue areas. This difference is likely due to the politization of climate change in recent years.
It's clear that climate change is going to require large-scale, systemic change. Every individual has the opportunity to make a difference and affect positive change. Here are some tips for how you can leverage strategies for sustainability, tackle climate change and work toward a healthier environment.
5 everyday Sustainable Practices
Learn About the Issue of Climate Change
Did you know that 73% of people said they took time to learn about the issue of climate change? Listening and learning is a crucial first step to tackling any social issue or cause area and is one of the nine elements of the Points of Light Civic Circle®.
When we learn about an issue before jumping into finding solutions, we can more effectively combat the challenges and remain sensitive to the communities impacted by it. If we don't have the foundational knowledge surrounding what is going on, what work is currently being done and how best to help, we may even unintentionally cause further harm trying to solve the issue.
Start by reading books and blogs, listening to experts and examining research to get educated on the current state of things. You can check out TED Talks focused on climate change, add some books on the issue to your library and listen to podcasts from knowledgeable experts in the field.
Volunteer With an Environmentally-focused Organization
Volunteering your time and talent is another element of the Civic Circle, and this is an excellent way to lend hands-on support to the causes you care about, including environmental issues and climate change. Volunteers provide critical support in the form of pro-bono labor, saving organizations valuable funds, increasing people power and maximizing resources.
You'll want to make sure you find credible organizations that are working to solve the issues in sustainable ways. You'll also want to be mindful of your schedule and capacity and choose an organization that can allow you to volunteer when you're able – whether that's once a week, once a month or during a special event with a team.
See how New Jersey teenager Jashmitha Sappa is working to keep batteries out of landfills.
Donate to a Nonprofit Taking on Climate Change
Don't feel you have the time or capacity to volunteer? You can always make a difference with your dollar. As you research organizations working to tackle climate change, consider donating to these causes. Besides helping these organizations to thrive, you can also support ongoing research on climate change and the environment through your donations. Check our Points of Light's free digital magazine, Civic Life Today: Donate, to learn more about how to vet each organization you consider to ensure that donor money is being spent wisely and the organization is actively working to advance the cause.
Whether you provide a one-time or recurring donation, your funds can help make a huge impact on the issues. Nonprofits in particular rely on donations to sustain their mission. Donors are what help these organizations pay their staff, resource their volunteer projects and keep moving forward with their crucial work. Through contributing money, services or goods, you can support the welfare of others and help advocate for a more sustainable, environmentally friendly future.
Contact Your Representatives to Voice Your Concerns
How else can you combat climate change and work towards a healthier, brighter future for the planet? Since many of the sources causing environmental harm today come from large corporations and well-established systems, changes in political leadership and agendas are necessary to see large-scale improvements.
As an individual, you can use your voice to make your concerns known to your local and national leaders. Contact your legislative representatives, be mindful of who you're voting for and what their stances are on environmental issues, sign petitions for action on climate change and even consider reaching out to local officials or leaders in your schools or workplaces to introduce green solutions to these spaces.
Read about Bank of America employee Beth Hartnett's sustainability journey, including cultivation of a community garden in her coastal New England town.
Take Steps Toward Sustainability in Your Own Life
With a little effort, you can take steps to reduce your carbon footprint and contribute toward solving climate change. Start by assessing your own carbon footprint with a helpful calculator. Then find ways to cut back on activities that are contributing to harmful emissions.
Perhaps you make a plan with your family or roommates to be more mindful of water usage and energy consumption. Maybe you opt for walking, biking or public transit instead of driving everywhere – or consider carpooling with coworkers and friends. Purchase sustainable goods and be mindful of waste. Set up recycling or composting protocols in your home or workplace. Reduce your use of single-use plastics. There are myriad ways you can take small, daily actions to begin reducing your own carbon footprint.
---
Want to keep diving? Take a look at these topics to find out how you can leverage our research to take civic action in your own community:
Share this post
---