Key Takeaways on Education and Literacy Development from Points of Light's Research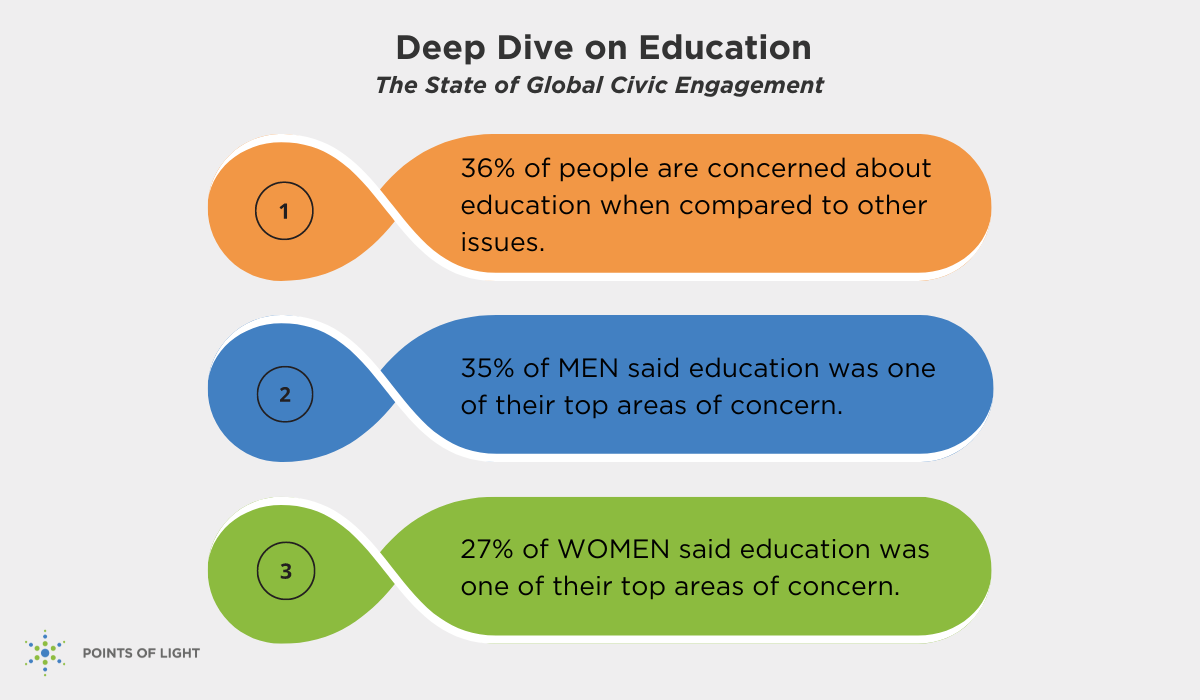 It's back-to-school season in many parts of the world, it's natural to begin thinking more about education, its place in our society, and how well it's serving people in its current state. There is nothing quite as important in building resilient communities and future leaders as education and access to education. Education equips young individuals with literacy development, critical thinking and reasoning capacities, and so much more that will serve them throughout their lives.
But education isn't always a straightforward cause area, and many people are concerned about policies, funding and curriculum across today's education landscape.
As back-to-school season ramps up, we are looking at some takeaways from Points of Light's research on education and early education. Here are a few things we've found.
Key Insights
Education was one of the top five issue areas of concern across all four countries surveyed by Points of Light. This is perhaps unsurprising given the particular impact of the COVID-19 pandemic on education systems. At one point, 94% of children were out of school, and this will have a rippling effect for years to come. It's no wonder that 40% of Gen Z respondents, born from 1997 to 2012, said this was an area of top concern, as they were the generation most directly impacted.
Making strides in education can mean getting involved in a variety of ways including voting on policies that support and influence the educational system, volunteering in classrooms or after school programs, serving on school boards or as part of national service organizations focused on education and using our voices to support educators and advocate for school-aged children.
But if we are to make the greatest possible impact, we must take into account the early education systems as well. These are the institutions responsible for educating children in some of their most formative years providing social, emotional and cognitive skills to become lifelong learners.
See how computer science student Karnika Choudhury is passing on coding skills to youth with learning disabilities.
Interests in Education vs. Early Education
When asked about cause areas of top concern, 36% of people reported being concerned about education when compared to other issues. However, that number was cut in half when it came to early education, which only 18% of respondents cited as an area of top concern, when compared to other issues.
Learn more about retired teacher Suzanne Bergman, who spent her career working in early childhood education and now tutors under-resourced children with New Horizons of Southwestern Florida.
Gender Divides in Concern About Education
When examined further, there was a distinct gender divide in the respondents showing concern for early education vs. education in general. When it came to early education, women reported being more concerned (at 21%) than men (at 15%). However, in the more general education category, these statistics were neck-and-neck, with 37% of women and 35% of men reporting education as an area of top concern.
Generational Differences in Perspectives on Education
Gender wasn't the only factor contributing to different responses across education. There was also a generational divide. While 36% of Baby Boomers expressed interest in the more general education category – making them the second most concerned, out of the four generations polled. However, only 13% of Baby Boomers expressed interest in early education, ranking them last for this category, and significantly lower than any other generation, despite the well-documented lifelong benefits of early childhood education.
See how book-lover Teresa Gerald is spreading access to resources and supporting literacy in her local library system.
Education stands as a cornerstone for building resilient communities and nurturing the next generation of capable leaders. The good news is, there are ways to support education by voting for supportive policies, volunteering in classrooms and after-school programs, advocating for educators, and serving on school boards. Plus, by recognizing the significance of early education, we can ensure a solid foundation for childhood development. Bridging the gender and generational gaps in concerns about education will lead to a more cohesive and impactful approach. As back-to-school season approaches, it's a time for a renewed commitment to education and early education, empowering our communities and ensuring a brighter future for everyone. By combining elements of the Points of Light Civic Circle®, we can amplify our impact and inspire real and sustainable change.
See how self-taught student from Afghanistan Nessar Hekmatjo is helping other displaced students adjust to life in the United States.
---
Want to keep diving? Take a look at these topics to find out how you can leverage our research to take civic action in your own community:
Share this post